Dianne Whyte: Altered Ground
Friday 9 September – Sunday 27 November 2022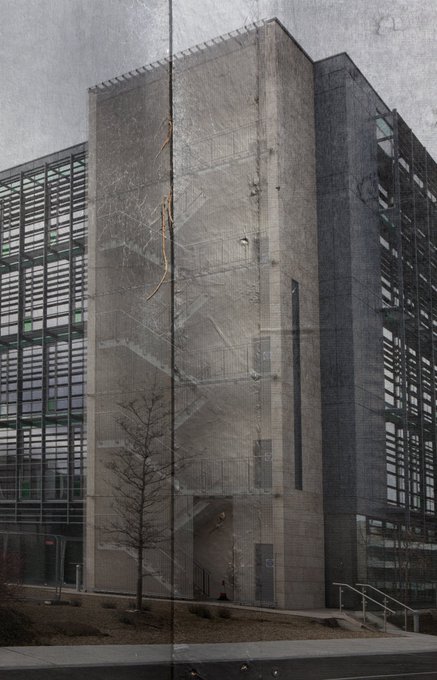 ――― In venue ―――
'Each area altering dramatically, each visit offering new creative possibilities, construction hoardings meander snake-like through the landscape, ground overturned and inverted. Trees witnessing these transformations stand still and majestic, their roots spreading out amongst the rubble. New roads cut through the landscape awaiting their purpose as buildings rise up from the ground brick by brick'.
– Dianne Whyte
Dianne Whyte is a recipient of the dlr Visual Art Commission funded by The Arts Council of Ireland. Altered Ground is a new body of work exploring landscapes undergoing extensive development within the local areas of Cherrywood, Lehaunstown, Carrickmines and Sandyford.
After the enforced stillness and inactivity pervading recent years the construction of these developments has recommenced. By personal interactions with the environment, Dianne Whyte looks at the transformation of these spaces, from new builds to the present ongoing alteration of the landscape. Through the use of experimental photographic techniques this work expresses an emotional reaction to a familiar environment that is undergoing profound change, concentrating on small details that would otherwise be overlooked.
Dianne Whyte is a photographic artist living in Dublin. She holds a BA hons in Photography from IADT and an MFA with distinction from The University of Ulster (2017). Whyte's work has been exhibited both nationally and internationally including the Pingyao International Photography Festival; The Royal Hibernian Academy; The Royal Ulster Academy; The Highlanes Gallery, Drogheda; Draíocht; Rua Red, Dublin; The Photoplace Gallery, Vermont; The Printworks, Dublin Castle amongstothers. Whyte was the recipient of the Curtain O'Donoghue prize at the 191st RHA Annual Show. Her work is held in both private and private collections including The OPW and The Department of Finance in Northern Ireland.
Dún Laoghaire-Rathdown County Council is pleased to host this exhibition, with Councillor Mary Hanafin, Cathaoirleach saying "We are delighted to have an opportunity to showcase the work of local photographer Dianne Whyte whose work features images of the County that are both unique and beautiful"
CEO Frank Curran said "DLR County Council is thrilled to exhibit the wonderful images of photographic artist Dianne Whyte, it is a particular delight as they feature areas of the County which are undergoing exciting developments at present"
For details of the Gallery Learning Programme go to www.dlrcoco.ie/arts
Friday 9 September – Sunday 27 November 2022
dlr LexIcon
Dún Laoghaire, Co. Dublin
Telephone: +353 1 271 9531
Opening hours / start times:
Monday – Thursday 10am – 8pm • Friday & Saturday 10am – 5pm • Sunday 12pm – 4pm
Admission / price: Free