Diana Copperwhite: Vanishing Apertures
Thursday 4 November – Saturday 27 November 2021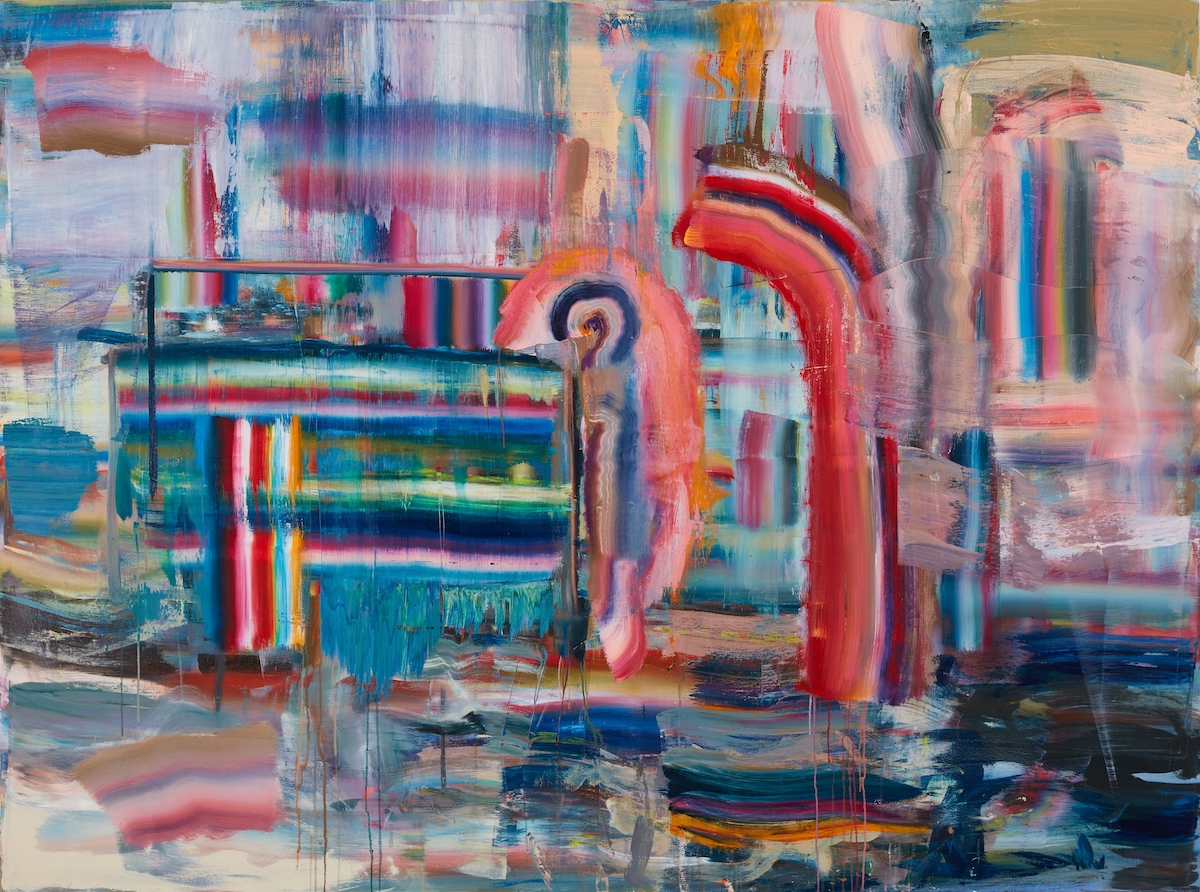 ――― In venue ―――
Diana Copperwhite's paintings draw us into an idiosyncratic world of vanishing apertures, perceived thoughts, memories and impulses that oscillate between notions of appearance and disappearance, presenting and erasing themselves in the moment of making. Her large-scale wall installations and canvases accommodate the freedom to simultaneously embody these investigations of false starts, half formulated geometry, imaginary notations, colour notes, forms, and colour bars to co-exist and find their own equilibrium. The result is a symphony of painted moments that are sometimes fragile and at other times strong and concrete. The human presence, often in portrait form, is apparent as an ongoing study within Copperwhite's practice and is a reminder of the multi dimensional expression found within her painting.
The exhibition will be accompanied by a text written by Sue Rainsford.
To coincide with 'Vanishing Apertures', the gallery is hosting an evening with Diana Copperwhite and Sue Rainsford: In Conversation on Tuesday 16 November at 6pm. Booking required: Tickets available here. 
____________
Diana Copperwhite (b. 1969, Ireland) lives and works in Dublin and New York. Recent solo exhibitions include 'Works on Paper', Rathfarnham Castle, Dublin (2021), 'Lockdown Series' Online exhibition, Kevin Kavanagh, Dublin (2020), 'Proto Fiction and the Sleep of Reason', Kevin Kavanagh, Dublin (2019), A Clock Struck Between Time, 532 Gallery Thomas Jaeckel, New York( 2018), Crooked Orbit, Kevin Kavanagh, Dublin (2017), Driven by Distraction, Royal Hibernian Academy, Dublin (2016), Depend on the Morning Sun, 532 Gallery Thomas Jaeckal Gallery, New York (2016) and A Million and One Things Under the Sun, Kevin Kavanagh, Dublin (2015). Recent selected group shows include POSITIONS Berlin Art Fair, Berlin (2021), 'New Perspectives',National Gallery of Ireland, Dublin (2021), PRISM, The Glucksman, Cork, (2019), The Rothko Painting Symposium, Daugavpils, Latvia, (2018), Bounty, a two person show with Aileen Murphy, Kevin Kavanagh, Dublin (2018), HOME, More than Bricks and Mortar – Works from the IMMA collection, Draíocht, Dublin 2018, Hells Kitchen, Thomas Jaeckel (off site), New York (2018) Double Vision, w/Shirley Copperwhite, dlr Lexicon, Co. Dublin (2018) Last Picture Show w/Mary Heilmann, Chris Ofili, Danny Rolph, Vanessa Jackson, Elio Rodriguez, Jill Levine, Rebecca Smith, 532 Gallery Thomas Jaeckel Gallery, New York (2017) and Virtu, with work by, Picasso, Giacometti, Henry Moore, Elizabeth Magill and Sean Scully at the Hunt Museum, Limerick, Ireland (2017). Copperwhite's work is held in numerous public and private collections including: The Irish Museum of Modern Art; The National Gallery of Ireland; The Dublin City Gallery, The Hugh Lane; Arts Council of Ireland; The Rothko Center, Latvia; The Limerick City Gallery of Art; The Highlanes Gallery, Office of Public Works; Contemporary Irish Art Society; Mariehamn Stadsbibliotek, Aland, Finland; International Red Cross Netherlands; Private collection of Gail Levin, New York City; Private collection of Sean Scully and Liliane Tomasko; O'Brien Collection, Chicago and numerous private collections across the world.
Upcoming exhibitions include solo exhibition at 532 Gallery Thomas Jaeckel, New York (2022), 'Who Do We Say We Are? Irish Art 1922 | 2022', Snite Museum of Art, The University of Notre Dame (2022).
Image: Diana Copperwhite, Stranger than Fiction, 2021
Thursday 4 November – Saturday 27 November 2021
Chancery Lane
Dublin 8
Telephone: +353 1 475 9514
Opening hours / start times:
Tuesday 10:30 - 17:30
Wednesday 10:30 - 17:30
Thursday 10:30 - 17:30
Friday 10:30 - 17:30
Saturday 11:00 - 17:00
Admission / price: Free