Diana Copperwhite: Proto Fiction and The Sleep of Reason
Thursday 10 October – Saturday 9 November 2019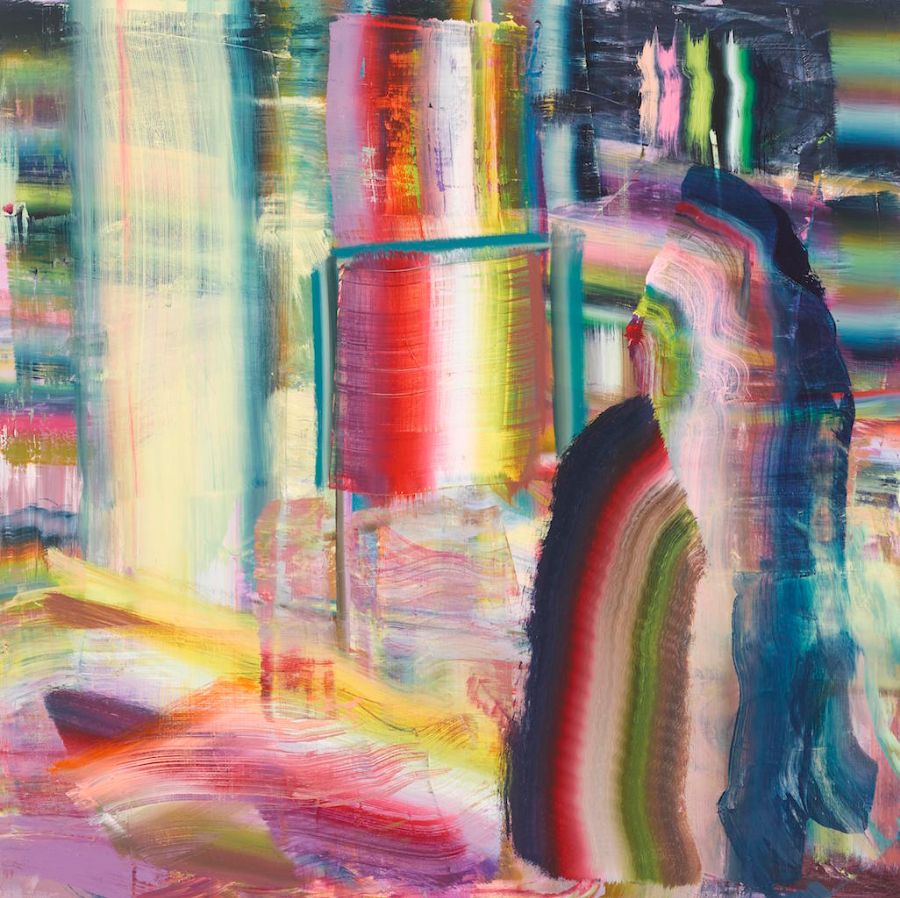 In Diana Copperwhite's exhibition Proto Fiction and the Sleep of Reason, her paintings appear to pulse, glow, dissolve, vibrate, radiate, to fade in and out of focus even as you look at them. Layers of scuffed, scraped and smeared colour partially obscure any underlying images or suggestions of recognisable subject matter. You, just briefly, see something there, a hint of the familiar, before it disappears again – and even the memory of its vision dissipates in turn. Copperwhite is adept at implicating the spectator in her artistic process, as she registers and records the intangible and the imperceptible: radio waves, infrared light, a change in atmosphere, impinging external distractions, flights of memory or free association. These ephemeral, evanescent elements all come together in the canvas, even if only momentarily before being buried within subsequent gestures.
– Extract from the text 'how things stand, at this moment' written by Chris Clarke UCC to accompany this exhibition, 2019.
Diana Copperwhite (b. 1969, Ireland) lives and works in Dublin and New York. Recent solo exhibitions include A Clock Struck Between Time, 532 Gallery Thomas Jaeckel, New York( 2018), Crooked Orbit, Kevin Kavanagh, Dublin (2017), Driven by Distraction, Royal Hibernian Academy, Dublin (2016), Depend on the Morning Sun, 532 Gallery Thomas Jaeckal Gallery, New York (2016) and A Million and One Things Under the Sun, Kevin Kavanagh, Dublin (2015). Recent  selected group shows include PRISM, The Glucksman, Cork, (2019), The Rothko Painting Symposium, Daugavpils, Latvia, (2018), Bounty, a two person show with Aileen Murphy, Kevin Kavanagh, Dublin (2018), HOME, More than Bricks and Mortar – Works from the IMMA collection, Draíocht, Dublin 2018, Hells Kitchen, Thomas Jaeckel (off site), New York (2018) Double Vision, w/Shirley Copperwhite, dlr Lexicon, Co. Dublin (2018) Last Picture Show w/Mary Heilmann, Chris Ofili, Danny Rolph, Vanessa Jackson, Elio Rodriguez, Jill Levine, Rebecca Smith, 532 Gallery Thomas Jaeckel Gallery, New York (2017) and Virtu, with work by, Picasso, Giacometti, Henry Moore, Elizabeth Magill and Sean Scully at the Hunt Museum, Limerick, Ireland (2017). Copperwhite's work is held in numerous public and private collections including: the Irish Museum of Modern Art, Arts Council of Ireland, Limerick City Gallery of Art, Office of Public Works, Contemporary Irish Art Society, Highlanes Municipal Art Gallery, Mariehamn Stadbiblioteque, Aland (Finland), Dublin Institute of Technology and The President of Ireland and more recently The National Gallery of Ireland.
Image: Unknown Denominator, oil on canvas, 100 x 100cm, 2019
Thursday 10 October – Saturday 9 November 2019
Chancery Lane
Dublin 8
Telephone: +353 1 475 9514
Opening hours / start times:
Tuesday 10:30 - 17:30
Wednesday 10:30 - 17:30
Thursday 10:30 - 17:30
Friday 10:30 - 17:30
Saturday 11:00 - 17:00
Admission / price: Free