Diana Copperwhite: Onomatopoeia
Thursday 27 April – Sunday 25 June 2023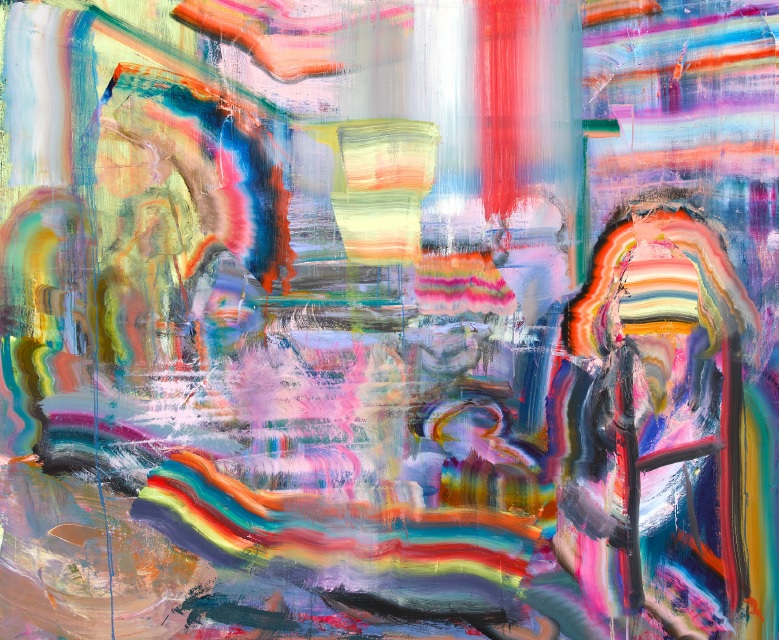 Limerick City Gallery of Art (LCGA) is delighted to welcome this touring exhibition of new work by Limerick-born artist, Diana Copperwhite, for this much anticipated exhibition.
'Diana Copperwhite makes big bold oil paintings that excite and stir our twenty-first-century perceptions. Her compelling images are both complex and energetic. She is never at a loss for the impulse to paint, though she is coy about revealing her concerns, often throwing the viewer just a few clues and leaving a lot of room for the imagination. She creates an exquisite tension between abstraction and figuration or representation of any kind. She appears to tease out this tension to hold our interest, as we both take in the visual splendour of her paintings and try to fathom what they are about' 1
 In an interview with Aidan Dunne, in the 2023 spring edition of the Irish Arts Review, Copperwhite states that music is an inspiration. "Recently, I've found it good to start a painting with composer, Arvo Part, but it's not so good when it (the painting) gets further on and more complicated. I love Bach. And I've noticed, listening to jazz, it's easier to deal with multiple elements of composition.  You can jump from one corner to another quite naturally.  You notice things differently with music"
This exhibition, curated by Aoife Ruane, is presented as a national tour enabled by an Arts Council Touring Award.
1 Extracted from Reality, Virtual Reality, and Abstraction by Gail Levin
Image: Diana Copperwhite: Onomatopoeia, 2021, oil on canvas, 150 x 180cm; courtesy the artist and Kevin Kavanagh Gallery
Thursday 27 April – Sunday 25 June 2023
Pery Square, Limerick
Telephone: +353 61 310633
Opening hours / start times:
Monday- Saturday 10am – 5pm
Sunday 12 – 5pm
Last admission 15 minutes before Closing time.
Admission / price: Free
The gallery is closed on Bank and Public Holidays.