Diana Copperwhite and Danny Rolph: Inside the Palace
Saturday 7 June – Saturday 5 July 2014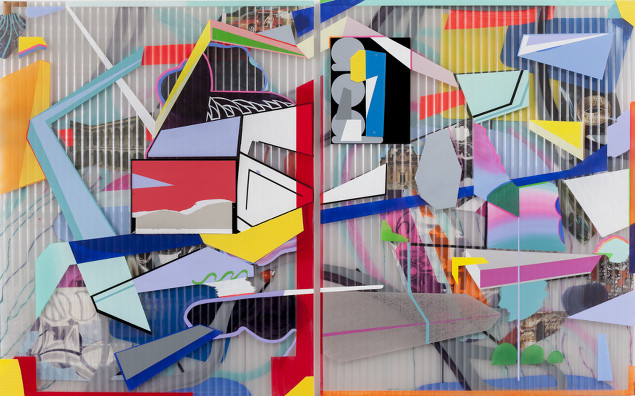 Opening Reception Friday 6 June at 6pm
Diana Copperwhite's work focuses on how the human psyche understands information and looks at the mechanisms of how we formulate what is real. Copperwhite's canvases become worlds in which the real is unreal and this unreality is in a constant state of reforming. She works with a layering of fragmented sources which find their pictorial form somewhere between the ephemeral, abstracted interpretation of science, images from the media and popular culture and physical sensations from personal memory.
Danny Rolph also works with layering but his method is with the material of canvas and multi-layered sheets of Tripewall plastic. Within his work there are associations with motion, velocity, pop culture and design. His recent paintings on show at Kevin Kavanagh gallery are inspired by the colours of West Texan skies and a twisted relationship with visual modernism, populating the surface with shapes that are sharp, delicate, irregular and emotive. The spirit of inquiry is, as ever, generous, instinctive and overtly pictorial.
Diana Copperwhite (b. 1969, Ireland). In 2012 she completed an artist's residency at the Josef Albers Foundation Connecticut, USA. She was a finalist in the Guasch Coranty Fundacio Painting Prize, Centre Cultural Metropolita Tecia Sala, Barcelona (2008) and was winner of the AIB Art Prize (2007). Recent shows include; Re-framing Domestic Irish Art, Highlanes Municipal Art Gallery, Droheda, Loose Ends, 532 Gallery, Thomas Jaeckel, New York, 2013, Diana Copperwhite solo presentation, Volta NY, New York (2013), Into the Light: The Arts Council of Ireland, Crawford Gallery, Cork (2012), Diana Copperwhite, Anna Bjerger and Oliver Comerford, Kevin Kavanagh, Dublin (2012), Making Familiar; Temple Bar Gallery, Dublin (2012), The Mind was Dreaming, the world was its Dream, Diana Copperwhite, Michael Kalmbach & Hiraki Sawa, Solstice Art Centre, Navan (2012), An Island from the day before, Kevin Kavanagh, Dublin (2011). Her work is included in the collection of the Irish Museum of Modern Art and The Arts Council of Ireland.
Danny Rolph (b. 1967,UK). He has an MA in Painting from the Royal College of Art graduating in 1993. He has had numerous solo shows across the world and is included in major collections including the Metroplitan Museum of Art, New York and the Tate Gallery. Last year he had a solo show at the prestigious public gallery at E.S.A.D. Valence. Rolph is currently represented by Barbara Davis Gallery in the U.S. where he has his fifth solo show in October 2014. He's a visiting tutor at various art schools in the UK including the Royal Academy schools, Royal College of Art, University of the Creative Arts and Bucks New University where he was appointed professor of Fine Art in 2009.
Image: Danny Rolph: Paradiso 8, dyptich mixed media on triple wall, 100 x161cm, 2014
Saturday 7 June – Saturday 5 July 2014
Chancery Lane
Dublin 8
Telephone: +353 1 475 9514
Opening hours / start times:
Tuesday 10:30 - 17:30
Wednesday 10:30 - 17:30
Thursday 10:30 - 17:30
Friday 10:30 - 17:30
Saturday 11:00 - 17:00
Admission / price: Free