Diagrams
Friday 2 October – Saturday 14 November 2015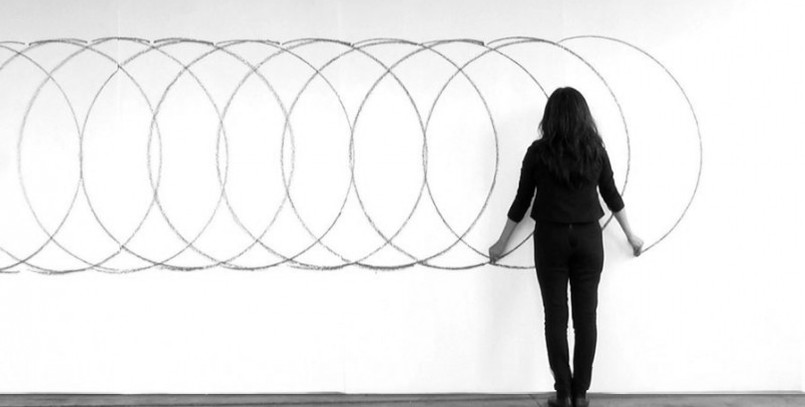 Previously exhibited in partnership at Pallas Projects, Dublin, Diagrams makes its way to Belfast at QSS Gallery. Diagrams is a mixed-media show of work by 7 artists, comprising lens-based media, drawings, paintings and sculptures.
The exhibition is accompanied by a talk from Curator Niamh McDonnell taking place at Belfast Exposed Gallery alongside a film screening of 'Innocence Protected' (Dušan Makavejev, Yugoslavia 1968).
Diagrams is a cross border collaborative project that involves the participation of artists, filmmakers, architects, new media designers and visual cultures theorists. It creates a range of platforms for arts practitioners and theorists to exchange perspectives on their approaches and it gives audiences insights into this learning process.
Diagrams is a show of newly commissioned diagram artworks. 7 artists have responded to the invitation to explore the diagram as an approach to art practice as research through painting, print, wall installation, sculpture and video. The diagram provides a critical approach to abstract and conceptual art practice through its history as a mechanism for data visualization and display. It highlights the limits of representational practices that define elements in relation to an external frame of reference. The diagram is an abstract machine that applies different logical principles to produce descriptions of the internal relations of elements and their spatial organization. It offers a means of speculating about possible changes in relations and how they can re-determine spatial organisation.
The diagram artwork produces different descriptions of the process of working through ideas and their materialization. Different combinations of elements propose spatial arrangements that can be used to inscribe material surfaces with patterns that encode the possibility for visualization of structures. The variations between the patterns of inscriptions present different possible narratives about the process of material production. This conceptualizes the embodied viewing subject who is prompted to adjust how they stand-in-relation to the work while constructing a narrative through which to read its inscribed surfaces. The diagram speculatively abstracts multiple possible narratives from elements of the subject matter and prompts the subject to self-conceptualize through their constructive reading of those presented narratives.
Further information about the project can be found HERE.
Friday 2 October – Saturday 14 November 2015
31-33 Bedford Street
Belfast BT2 7GH
Telephone: +44 28 90 24 31 45
Opening hours / start times:
Tuesday 10:00 - 17:00
Wednesday 10:00 - 17:00
Thursday 10:00 - 17:00
Friday 10:00 - 17:00
Saturday 10:00 - 17:00
Admission / price: Free