Dermot Seymour: Fliskmahaigo
Thursday 20 November – Saturday 20 December 2014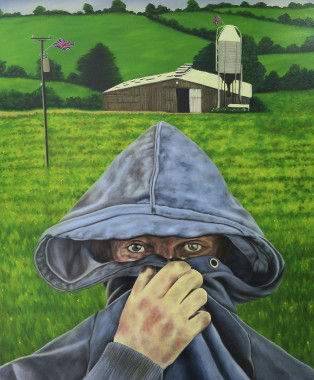 Opening Reception Thursday 20 November at 6pm
'Contemporary politics is the whim of man promulgated through propaganda of imagery and symbolism. In this manner society has been provided with a new gospel for the faithful that positions questioning and interrogation as part of a dissident heterodoxy. Herein we find Dermot Seymour's current exhibition, Fliskmahaigo.
Seymour's paintings draw upon his Belfast childhood experience that saw nature as an escape from the troubled streets of the city. With his subsequent move to the bucolic idyll of the foothills of the Partry Mountains, Seymour continues to find obvious comfort from landscape that is changed only by the seasons. His view of this landscape, even with the placement of utilitarian structures, becomes unsettled by the interference of people, monuments and appropriated symbols that are inured with a stark and frightening power when placed outside of their usual context.
These paintings are mixed with raw human existence that compels us to question humanities' propensity for damaging itself; an accusation that permeates Seymour's work. Nature has a stability against which is placed the festering of a society torn apart by a continuation of an outmoded identity. Abuse, decay, and political wrangling are placed at the forefront of Seymour's images. His customary animal protagonists stare at us from the canvas to disconcert us by their simplicity as we look at this torn manmade world that surrounds us'.
– Noel Kelly, Director, Visual Artists Ireland
The Hamilton Gallery, Sligo is showing Hibernoid – selected works by Dermot Seymour, until 29th November 2014.
Image: Dermot Seymour: Dissident Grey Hare, oil on canvas, 120x100cm, 2014
Thursday 20 November – Saturday 20 December 2014
Chancery Lane
Dublin 8
Telephone: +353 1 475 9514
Opening hours / start times:
Tuesday to Saturday 11am – 5pm
Admission / price: Free