Derick Smith: The Soul of Matter
Tuesday 12 April – Thursday 23 June 2022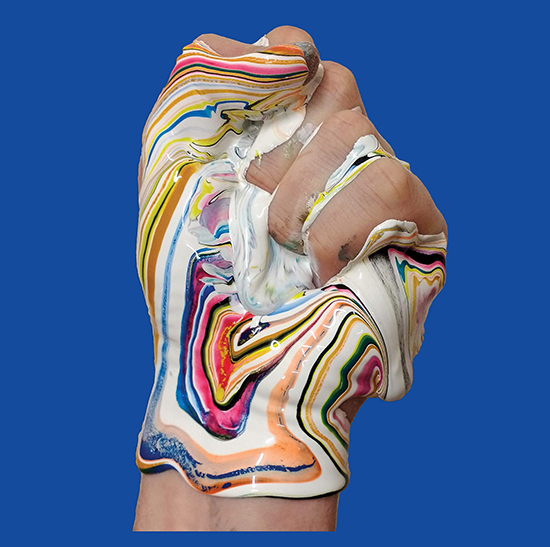 Luan Gallery is pleased to present The Soul of Matter, a solo exhibition by Meath based artist, Derick Smith. This new body of work represents a catharsis for the artist who worked with great dedication over the last few years on developing this current body of work.
The Soul of Matter is the first exhibition curated by Luan Gallery's recently appointed Curator and Programming Coordinator, Valeria Ceregini. It represents an opportunity to introduce Smith's exclusive series of mixed media works which demonstrates the artists' careful attention to materials. His practice is focused on the basis that art is accessible to everyone.  This new body of paintings explores the materiality of paint as a substance in itself. In so far as possible, references to external concrete objects have been eliminated (with the exception of titles) in an attempt to frame an interaction with colour and form which is not hinged upon comprehension of themes, ideas, or other times or places.
The exhibition aims to stimulate the visitor to engage with colours, their essence and materiality which are featured in Smith's paintings, works on paper and on clay. All the works were made exclusively for this exhibition and respond directly to the gallery space to create an interaction between the artworks and the surrounding environment which will activate the vibrancy of Derick's palette inspired by Mannerism masters.
This solo show aims to also attract people with no knowledge of contemporary art, and be encourage them to engage with the bright colours and the use of paintings beyond traditional flat surface, as the paint is collapsing and dropping down over the frame. Derick's paintings are presented in the gallery's three exhibition spaces as installations creating new dialogues and interactions with the light and environment.
The Soul of Matter opens to the public at 11am on Tuesday 12 April and ends on Sunday 19th June. It will be accompanied by an ongoing outreach programme of events and activities.  All are encouraged to visit this brilliant colourful exhibition.
Derick Smith began exploring sculpture and painting in NCAD (2011). Solo shows followed in Dublin (2015 and 2017) and one in Munich (2017) and inclusion in many group exhibitions worldwide (2015- present). His work was acquired by the O.P.W (2018) and now forms part of the Irish state art collection and is held in private collections in France, Germany, Japan, U.S.A., U.A.E and the U.K. He has been the grateful recipient of both grant awards and artist residencies.
Website: www.dericksmith.ie Instagram: @dericksmith YouTube: Derick Smith
Tuesday 12 April – Thursday 23 June 2022
Athlone, Co. Westmeath
Telephone: +353 9064 42154
Opening hours / start times:
Tuesday 11:00 - 17:00
Wednesday 11:00 - 17:00
Thursday 11:00 - 17:00
Friday 11:00 - 17:00
Saturday 11:00 - 17:00
Sunday 12:00 - 17:00
Admission / price: Free