Derek Culley: Tamhlacht & Golgotha
Monday 27 June – Saturday 30 July 2011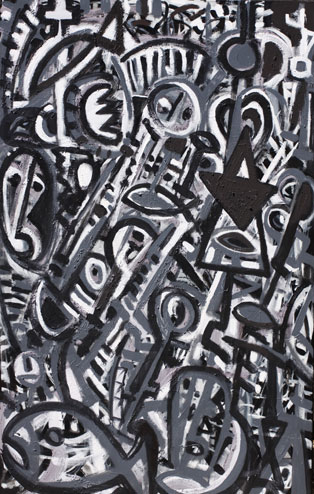 Presented by Alternative Entertainments
Derek Culley is a self-taught artist from Dublin, now living in Southport, Merseyside. He has been working and exhibiting since the mid-eighties, with shows in England, Ireland, Germany, Wales, France, Spain, USA, China, Macedonia and Canada. Derek was a founder member and chairman of Celtic Vision with the painters John Bellany and Denis Bowen, and participated in the group's exhibition tour in 1986-7.
The show is very much inspired by Tallaght and its historical and spiritual past. Of this exhibition Derek writes:
"As a child I went to school in Tallaght when its main building was the Dominican Priory. Always a place of mystery, I loved climbing over the Monastery wall and roaming the grounds. I would find peace of mind in the Dominican Chapel where the friars taught us religion and said Mass. I have always been fascinated by the history of Tallaght: its mythology, with the Parthalonian colony being killed by a plague and giving rise to the name Tamh (plague) Lacht (grave-monument); or the proven existence and importance of the monastery established by St. Maelruain."
The main work in this exhibition, Tamhlacht, consists of 14 individual panels each measuring 48" high x 30" wide and is informed by the history and mythology attached to Tallaght village and surrounding area."
The main piece will be complimented by a work Golgotha – The Place of the Skull that is 30ft long x 59inch's high and is based on the 14 Stations of the Cross.
Monday 27 June – Saturday 30 July 2011
South Dublin Arts Centre
Tallaght, Dublin 24
Telephone: +353 1 451 5860
Opening hours / start times:
Monday 10:00 - 18:00
Tuesday 10:00 - 18:00
Wednesday 10:00 - 18:00
Thursday 10:00 - 18:00
Friday 10:00 - 18:00
Saturday 10:00 - 18:00
Admission / price: Free