Denzil Browne: Photo Chemical Process
Saturday 14 April – Monday 14 May 2012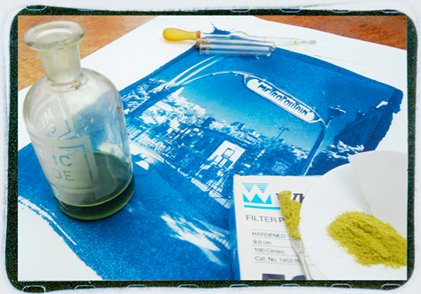 Exhibition Launch Saturday 14th April at 2pm
An exhibition of new work produced in an Artlink Darkroom Residency: Darkroom Prints and Cyanotypes – a 160 year old photographic process using sunlight to capture images on paper.
Workshop exploring Cyanotypes technique Sunday 15th April 1pm – 4pm
Workshop places limited. Please contact 0044 7840102952 for information.
About Denzil Browne
Denzil Browne graduated at University of Ulster at Belfast 1998 in Visual Communication specialising in photography. His photographic work has received various awards: Irish Arts Council with Abridged, 2008; Youth Arts Initiative, 2007; NIVT, 2002. Group Exhibitions include: 1999 'fig.Ment' Clear Spot Gallery, Belfast; 2003 'B – lomo' Context Gallery, L'Derry; 2004 '20' Workhouse Museum, L'Derry; 2005 'Damaged Collateral' Context Gallery, L'Derry; 2006 'Flipside' Flip Vintage Clothing store, L'Derry; 2007 'Photokina' Cologne Trade Fair, Germany. in 2010 his solo exhibition 'Abandoned Donegal' was published by Abridged and launched with a solo show at the Regional Cultural Centre, Letterkenny in 2011; it also exhibited in 2011 at X-PO, Kilnaboy, Co Clare.
During 2011 Denzil Browne developed his practice specializing in research into pinhole photography and photograms during an Artlink darkroom residency and delivered projects exploring this medium with teenagers from the local Gaeltacht. The culmination of the artist's Artlink residency is this exhibition at Fort Dunree which examines the early photographic technique of cyanotypes.
Saturday 14 April – Monday 14 May 2012
Buncrana, Inishowen
Co Donegal
Telephone: +353 74 93 63 469
Opening hours / start times:
Monday 10:30 - 18:00
Tuesday 10:30 - 18:00
Wednesday 10:30 - 18:00
Thursday 10:30 - 18:00
Friday 10:30 - 18:00
Saturday 10:30 - 18:00
Sunday 13:00 - 18:00
Admission / price: Free