Deirdre Byrne: After the Great Scaldwood
Thursday 14 June – Saturday 1 September 2012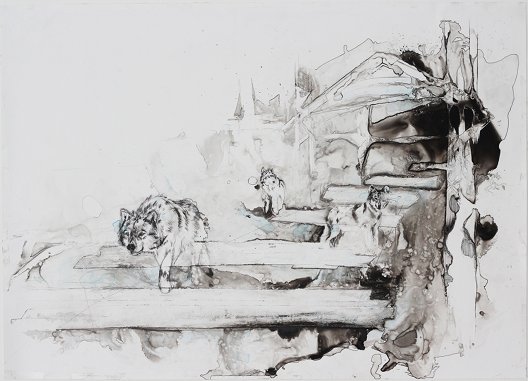 Opening Reception Wednesday 13 June at 7pm
After The Great Scaldwood developed out of a yearlong residency at Draίocht.
Central to Byrne's work is an exploration of the past in terms of former histories of current sites. Byrne has focused on two sites in particular, the Blanchardstown centre where Draίocht is located and the Dunsink Observatory, 5 kilometres away. Through research and site visits, Byrne uncovered aspects of the location's history in the 17th century which revealed The Great Scaldwood. This ancient forest stretched from the river Tolka to beyond Coolmine and was inhabited by wild boar and wolves until an extensive wolf cull made the wolf population in Ireland extinct.
Byrne links the past with the present in drawings such asTrace and Trail and The Great Scaldwood and in theWolfcull series of paintings. In Trace and Trail, we can see faint apparitions of wolves passing in front of the entrance to the Blanchardstown centre. The Great Scaldwood refers to the ancient forest, but here we see trees from the immediate urban area and a sign for the forest created using type from a selection of shop fronts.
The Moonrock series of drawings depicts a story that emerged from research into the Dunsink Observatory. After the Apollo11 expedition to the moon, two pieces of lunar rock were presented to Ireland, one of which was kept at the Observatory. A fire at the Observatory in 1977 led to debris from the building being dumped in the adjacent landfill. It is thought that the lunar rock is buried somewhere within the landfill.
The drawings are made with fine line drawing pens and Indian ink on Polyart paper. Byrne experiments with the materials, allowing the ink to flow across the paper and under masking tape which is removed and drawn over when dry. Layers of ink and water are applied in a succession of drips, sprays and splashes. Similarly the paintings are made up of layers of paint which are sanded back and repainted a number of times.
Byrne graduated with first class honours from NCAD in Fine Art Painting in 2003 and a Postgraduate Diploma in Art and Design Education in 2011. Previous exhibitions include Town and Country Monster Truck Gallery and Studios (2009), Amharc Fhine Gall – It's All in the Detail,curated by Caroline Cowley, Draíocht (2008), Winter Salon, Temple Bar Gallery and Studios (2008), Hi-VisAcross The Way (2008). Other Residency awards include the Tyrone Guthrie Centre, Monaghan and SÍM, Reykjavík, Iceland.
Web: www.deirdrebyrne.com
Image: Deirdre Byrne: Trace & Trail
Thursday 14 June – Saturday 1 September 2012
The Blanchardstown Centre
Dublin 15
Telephone: +353 1 885 2622
Admission / price: Free