Declan Clarke: The Hopeless End of a Great Dream
Friday 22 April – Saturday 18 June 2016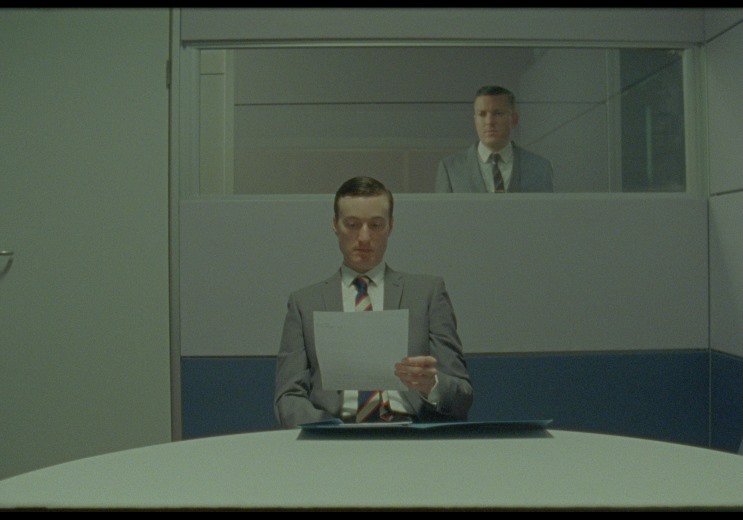 Temple Bar Gallery + Studios is pleased to present a significant new film commission by Irish artist Declan Clarke. Entitled 'The Hopeless End of a Great Dream', the 16mm film work has been co commissioned by TBG+S, Belfast Exposed, Centre Cultural Irlandais Paris and Trinity Creative.
The film was shot entirely on the grounds of Trinity College Dublin, using the diversity of architecture within Trinity's walls as a backdrop and metaphor for the last 100 years of Irish history. Taking a number of overlooked episodes in Irish history as its starting point, the film works along a fragmented narrative which sees unexplained actions taking place in academic and historical surroundings. Clarke grounds these episodes in the political present, so that they function as commentaries on the causes, effects, and ongoing ramifications of the past on the current political climate. Visually and thematically referencing the tropes of post war European cinema, Clarke blurs real and fictional stories to create film with a complex palimpsest of narrative development, compelling characters and mysterious events.
A public screening of the film will take place at the Ed Burke Theatre, Arts Block, Trinity College Dublin on 20th April 2016. The exhibition launches at TBG+S on 21st April and continues until 18th June 2016. It will then go on to be exhibited in Belfast Exposed in May and in Paris at the Centre Culturel Irlandaise in September.
The project received additional support from the Arts Council project award 2016.
Declan Clarke
b. Dublin 1974
Studied: National College of Art and Design, Dublin, and Chelsea College of Arts, London. Recent solo exhibitions include: Torrence Art Museum, Los Angeles; Farbvision, Berlin, both forthcoming in 2016; Geist Trilogie, Tromsø Kunstforening, Norway (ongoing); Wreckage in May, Dublin City Gallery the Hugh Lane, 2015; Group Portrait with Explosives, Mother's Tankstation, Dublin, 2014. In 2015, Clarke's filmGroup Portrait with Explosives won the Jury Prize at the 31st Biennale of Graphic Arts, Ljubljana, Slovenia.
Related Event:
Film Premier: The Hopeless End of a Great Dream | Declan Clarke
Come along for a preview of the film in the Edmund Burke Theatre in Trinity College Dublin on Wednesday 20th of April 2016 at 7pm, with tea and coffee beforehand.
Book your free ticket here.
Friday 22 April – Saturday 18 June 2016
5 - 9 Temple Bar
Dublin 2
Telephone: 353 1 671 0073
Opening hours / start times:
Tuesday 11:00 - 18:00
Wednesday 11:00 - 18:00
Thursday 11:00 - 18:00
Friday 11:00 - 18:00
Saturday 11:00 - 18:00
Admission / price: Free