Declan Byrne: Segments
Thursday 2 September – Friday 8 October 2021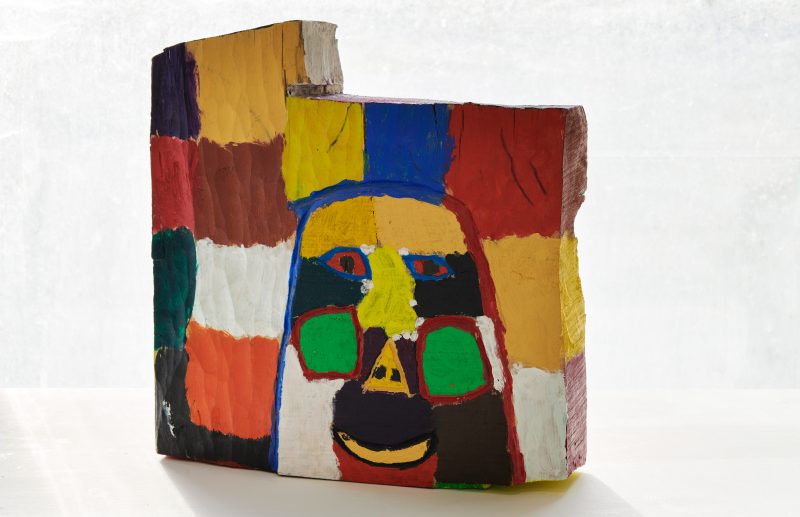 ――― In venue ―――
The University of Atypical is delighted to invite you to join us for Segments, a solo exhibition by Irish artist Declan Byrne. This exhibition features in the Bounce Arts Festival programme running from the 1st – 3rd of October, 2021.
Declan began working as an artist in 2004 and has created a remarkable body of artworks during this time. Declan is a great observer and takes inspiration from a wide variety of everyday objects. He translates the world around him through detailed and clearly articulated compositions, building-up intricate, colourful layers within his work.
Declan practices as a multi-disciplinary artist, utilising found objects within his paintings, sculptures and drawing . In his sculptural work Declan carefully cuts and shapes pieces of dried acrylic paint found in his studio from old painting pallets, before gluing the intricate pieces of layered colour to found objects. The treatment of colour and line found in his sculptures have a remarkable similarity to the aesthetic found in his paintings.
In Declan's paintings he transforms the world he sees in a detailed way, by breaking down shapes he rebuilds compositions out of multiple sections of colours and gestures.Declan Byrne is a studio member at KCAT Studios, Kilkenny and a major retrospective of his work took place in Glebe House, Kilfane, Co. Kilkenny in 2021.
Declan Byrne's artworks have been exhibited both nationally and internationally, including shows in Luxembourg, Finland Germany, Australia, Switzerland, The Netherlands and the UK.
His work has also featured in numerous exhibitions on the island of Ireland, including the Kilkenny Arts Festival, Dublin City Council Offices, The Skibbereen Arts Festival and University College Cork.
He has been involved in a number of exchange and engagements projects, including with Project Ability Gallery, Glasgow, Scotland. His work is also in the National Irish Art Collection in Crawford Gallery, Cork.
The KCAT artist studio is the permanent creative home to 14 professional visual artists. Studio artists are supported by mentors and a facilitator in all aspects of their professional development. There is a strong sense of community and mutual support between artists and mentors, which extends beyond the walls of the studio. Working individually, all share, inspire and motivate each other. For More Information about KCAT visit their website.
Thursday 2 September – Friday 8 October 2021
University of Atypical
109 - 113 Royal Avenue
Belfast BT1 1FF
Telephone: +44 9023 9450
Opening hours / start times:
Tuesday 11:00 - 15:00
Wednesday 11:00 - 15:00
Thursday 11:00 - 15:00
Friday 11:00 - 15:00
Admission / price: Free