Debbie Godsell: Flail
Thursday 16 February – Thursday 6 April 2023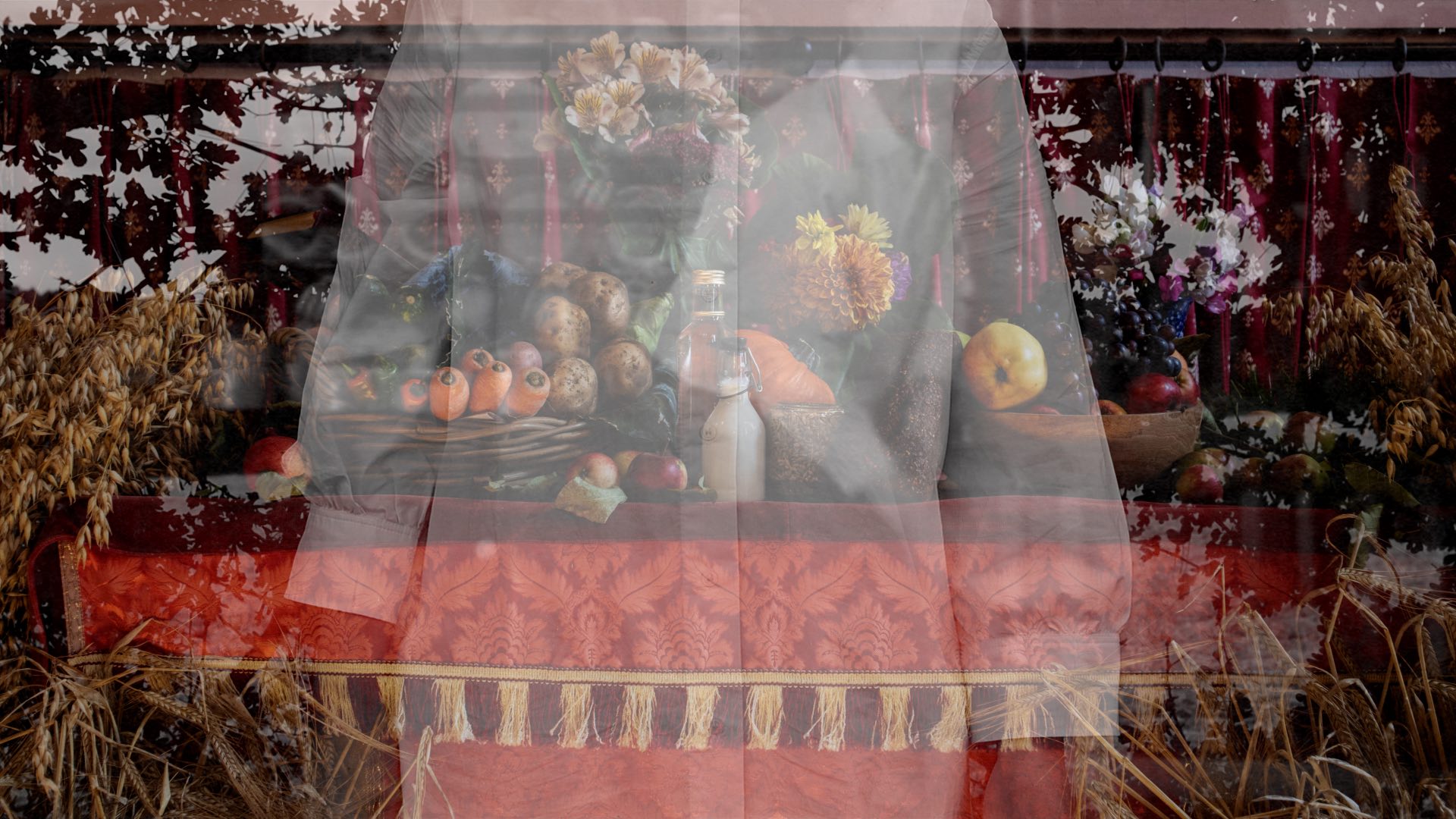 Flail is a test ground and fluid project space for new work by Debbie Godsell. Encompassing video, digital and textile works Godsell explores the meaning of custom and tradition, ethnicity, identity and belief systems through the lens of the Church of Ireland tradition of the harvest thanksgiving. 'Flail' examines the symbolic frameworks of this annual tradition, bringing together contemporary and historical iterations and their collective meaning within a modern Ireland.
By drawing together concepts of culture clash and ethno-cultural notions, Godsell tentatively explores the inherent tensions and contradictions within an Irish minority group that holds a historically complex relationship with the land and belonging.
This iteration will inform and expand two forthcoming solo exhibitions and is generously supported by an Arts Council visual arts bursary and a Cork County Arts office creative arts bursary.
Debbie Godsell is a member of Cork Printmakers. Debbie studied at the Limerick College of Art & Design and the Crawford College of Art, where she graduated with a Masters in Art. She has lectured at the Art Departments of the Crawford College of Art, Galway Institute of Technology and Limerick School of Art & Design and is currently Director of the second year art programme at Cork College of FET, Tramore Road Campus. Her work is collected in Ireland by the National Gallery of Ireland, the OPW, Cork University Hospital, St James Hospital, Crawford Municipal Gallery, UCC, UCD, Cork Opera House and the Port of Cork. In 2021, the Crawford Gallery acquired two of her works as part of the National Collection. She is a recipient of the Cork County Arts Office Tyrone Guthrie Bursary 2017 Award, the Cork County Arts office Ballinglen Artist Residency 2019, Cork County Arts Bursary 2022, and the Arts Council Visual Arts Bursary Award 2022. She was shortlisted for the Zurich Portrait Prize in 2018.
Sarah Kelleher is an arts writer, Government of Ireland Scholar and Assistant Lecturer at MTU CCAD.
Thursday 16 February – Thursday 6 April 2023
Cork Printmakers
Wandesford Quay
Clarkes Bridge, Cork
Admission / price: Free
10am-5pm Monday to Friday by appointment