David Quinn: SEAM
Friday 23 October – Saturday 14 November 2015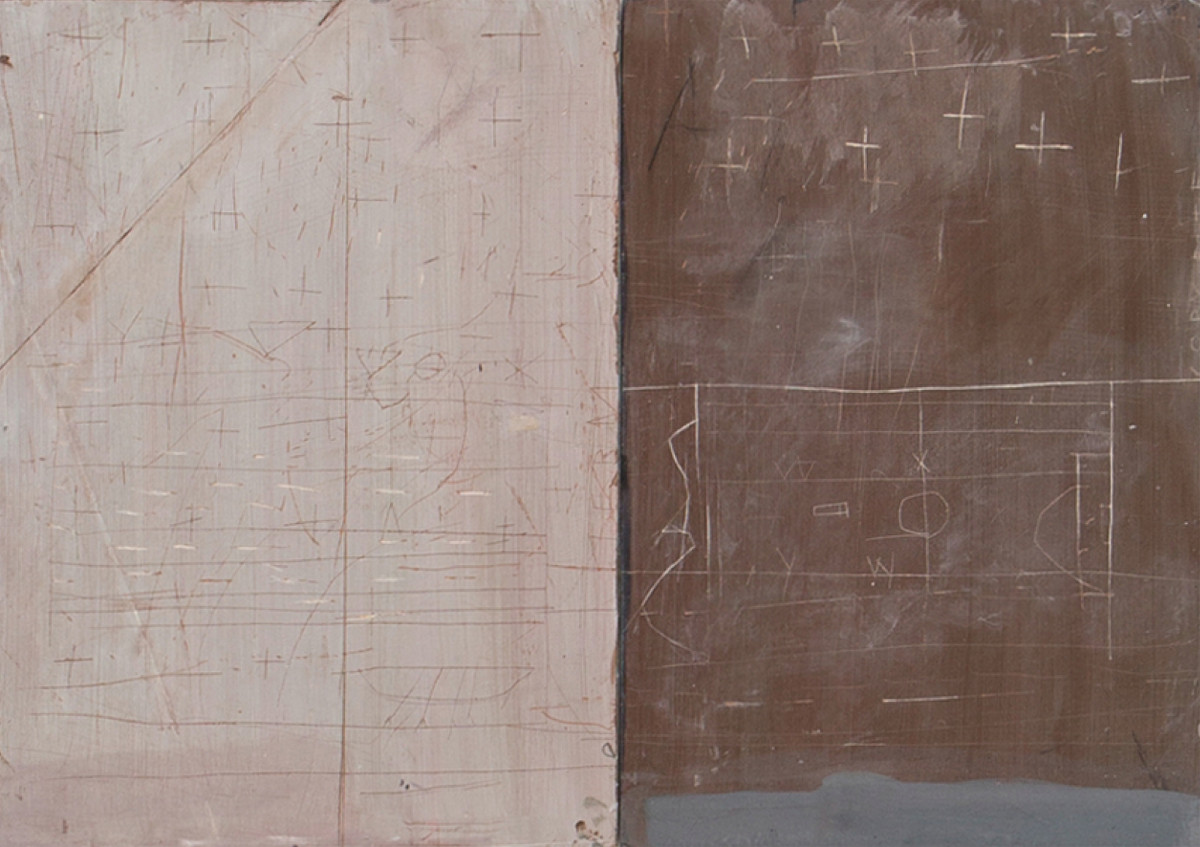 Taylor Galleries is delighted to present 'SEAM', an exhibition of recent paintings by Dublin-based artist David Quinn. Developed over the past two years, this new body of work was completed during the summer months in Callan, Co. Kilkenny, while Quinn was the recipient of the Tony O'Malley Studio Residency Award 2015. The residency provided him with the opportunity to experiment with working on a larger scale, and also saw him introduce a variety of new materials to his subtle painted assemblages. 'SEAM' is Quinn's sixth solo exhibition with Taylor Galleries and runs from 23 October to 14 November 2015.
'…[W]ith David Quinn there is this oscillation between work that meets us head on, whole, and work commences with detail, section, before building into its wholeness. The latter work takes its vocabulary from the elements of the building site – off-cuts, odd shapes, of plywood, MDF, Perspex. These elements are scored and bound together with glue or screw. Their presence on the gallery wall seems to challenge the order of architecture, to undermine the plumb and the level, to tilt us into asking where they get their authority from, how can they, from such abject origins, get to take the place of 'art'. His larger works impact first and then invite analysis, proving that their 'overall-ness' is won through dense, obsessive actions. And it is this notion of labour, of work, that unites his two approaches. It is his valuing of toil, whether by the artist or the construction worker, that can take the ordinary and transform it into art or architecture.'
– Patrick T. Murphy, Director, Royal Hibernian Academy
Born in Dublin in 1971, David Quinn studied Visual Communications at DIT Mountjoy Square from 1989 to 1993 before embarking on a career as a visual artist. Since then he has exhibited widely in solo and group exhibitions in Ireland. Recent solo shows include dunkelbunt, Taylor Galleries, Dublin (2014); pewter, Taylor Galleries, Dublin; d-esque, Fenderesky Gallery, Belfast (2012); murmur, Taylor Galleries, Dublin (2011); and margin, Taylor Galleries, Dublin (2010). Recent group shows include Éigse Carlow Arts Festival; Gallery Friends, Lavit Gallery, Cork (2013); Proper Nouns and Adjectives, Fenderesky Gallery, Belfast; Marathon Irish, Dialogue, London; Engine Room Gallery, Belfast (2012). In addition to the Tony O'Malley Studio Residency Award he has completed residencies at DIT's School of Art, Design & Printing (2012); Ballinglen Arts Foundation (2006) and Roundstone Arts Week (2005). He is co-curator of the LACUNA [ ] exhibition series at Taylor Galleries and in 2014 received a bursary award from dlr Arts. Quinn's work is represented in numerous private collections in Ireland, the UK, Europe and the USA and public collections include Bank of Ireland, Electric Ireland, the OPW / State Art Collection, Eaton Corporation, AIB Corporate Banking and the Morrison Hotel, Dublin.
Friday 23 October – Saturday 14 November 2015
16 Kildare Street, Dublin 2
Telephone: +353 1 676 6055
Opening hours / start times:
Monday 10:30 - 17:30
Tuesday 10:30 - 17:30
Wednesday 10:30 - 17:30
Thursday 10:30 - 17:30
Friday 10:30 - 17:30
Saturday 11:00 - 15:00
Admission / price: Free