David Creedon: Ghosts of the Faithful Departed
Thursday 10 November – Wednesday 30 November 2011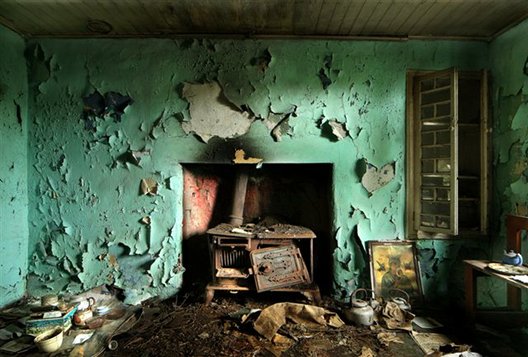 Hits: 2
An exhibition of Photographic Prints
Ghosts of the Faithful Departed is an exhibition of selected images from David Creedon's photographic project of the same name documenting some of the residual aspects of historic emigration and economic change in rural Ireland. Cork County Library and Arts Service present an exhibition of selected images from this project to mark the publication of Ghosts of the Faithful Departed by Collins Press. David's work has received a huge amount of critical acclaim from both Irish and international press, Editor Eight Magazine London, The Irish Times, Irish independent, Georgia Today and Lupe Gallery, London, to name but a few.
The art critic Siún Hanrahan of Irish Arts Review wrote of his work in Ghosts of the faithful departed:
"Ghosts of the Faithful Departed evokes an Ireland that was,…(and) captures apparently forgotten traces of lives lived, in spaces that have not yet been reclaimed and renovated. The photographs have been made with a clear eye for quite formal, planar compositions and a keen sensitivity to colour and texture….. In evoking the traumas and transformations of our history, the high hopes of those who left our shores and the slow painful transformations experienced by those who stayed…the images also invite association with our contemporary experience of migration – immigration – and what lies in its wake."
David Creedon was born in Cork, Ireland and has been described as a conceptual documentary photographic artist. He holds professional qualifications from both the Royal Photographic Society and the British Professional Photographers Association.. His work is regularly published and has featured in a range of International magazines, including Irish Arts Review, EIGHT, BBC Magazine, Eyemazing, and AG Photographic Journal. David Creedon has received international acclaim for his work and has previously exhibited in galleries and museums in New York, London, Chicago, Bucharest, Sarajevo, Tbilisi, Yerevan, Nicosia, Thessaloniki, Sofia and Ireland
David Creedon's work has been described "as one of the most significant collections of photography in contemporary Ireland and will be amongst the most important works of Irish art in years to come", while another critic has written, "His photographs transcend the documentary form and enter the realm of art, they are poems in photographs".
Artist's Statement
As a teenager I was fascinated by the effect of theatrical lighting singling out an actor or musician. I used a camera and flash to capture moments of these shows but soon found myself creating my own images from available light.
For the latter fifteen years I have tended to work on themed portfolios, spending up to a year working on a subject. I make pictures for myself and I use photography as a means of self-expression. I like photographing things that people see everyday but pay no attention to and which have now become invisible. My choice of subjects will normally come from my own life experience and my pictures will all be connected by narrative.
I try to capture the atmospheric mood that I experience within the spaces that I am documenting. I like working in relatively dark areas, and from here I search out light in the shadows.
Through the discipline of the use of a 1963 Linhof Technika large format camera I learnt and loved the slow pace of studying the scene, setting up the camera and finally capturing the shot. Now however, I use Canon digital equipment but my unhurried approach has remained unaltered
Thursday 10 November – Wednesday 30 November 2011
County Library Headquarters
Carrigrohane Road, Cork
Telephone: 021 4346210
Admission / price: Free