Dave West: Nocturama
Monday 12 March – Saturday 2 June 2012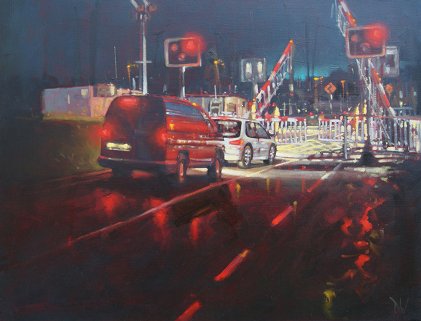 Opening Reception Saturday 10 March at 2:30pm
Dave West was born in Penclawdd, South Wales and grew up in Swansea City. He graduated from the Carmarthenshire College of Art & Design and is now settled in Balbriggan, North County Dublin. This new body of work has been in progress for the past three years and has progressed to an investigation into the relationships between place, atmosphere, light and the moods or feelings they can evoke.
Dave has held nine solo shows to date including two with the Blue Leaf Gallery. He has exhibited with Eigse Arts Festival, the Royal Hibernian Academy, the Royal Ulster Academy, and in the U.K. with the Royal Society of Marine Artists and the New English Art Club. His work is featured in numerous private and public collections including the Office of Public Works, Texaco Corp. and BP. In 2007 Fingal County Council purchased a series of seven paintings for display in their newly refurbished Balbriggan Library. He is also currently studying towards a BA (hons) in the History of Art.
DAVE WEST IN CONVERSATION
Dave will discuss the exhibition and his art practice with Ian Fleming – artist, lecturer at University of Ulster, and Director of Creative Exchange Studios, on 10 March 2012 at 2.30pm. This is a free event and all are welcome.
Monday 12 March – Saturday 2 June 2012
The Blanchardstown Centre
Dublin 15
Telephone: +353 1 885 2622
Admission / price: Free