Dave Madigan: Landscapes and Oddities
Thursday 14 September – Sunday 26 November 2023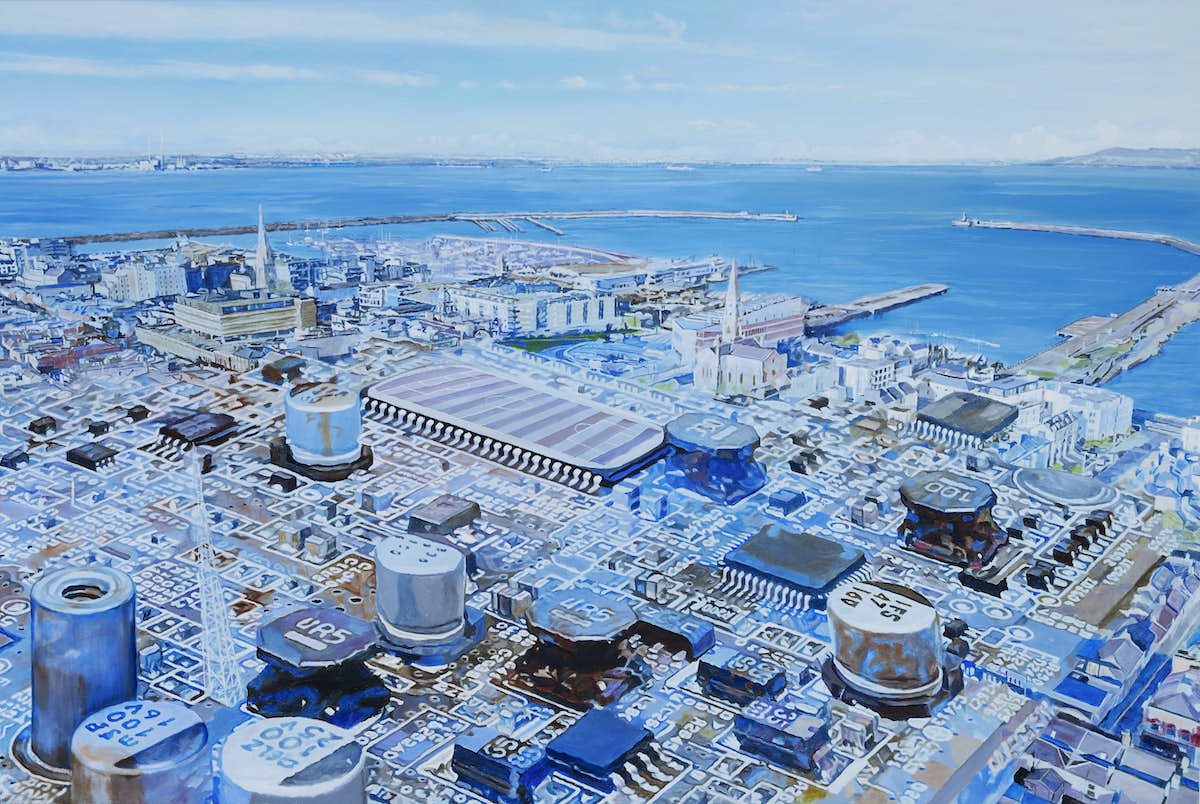 Dún Laoghaire-Rathdown County Council is delighted to present an exhibition of new paintings and sculpture by Dave Madigan, Landscapes and Oddities, the artist's first solo exhibition. Madigan was awarded the 2022 dlr Visual Art Commission Exhibition; this is funded by The Arts Council of Ireland and supported by Dún Laoghaire-Rathdown County Council.
Landscapes and Oddities features new large-scale paintings, with wide vistas and aerial views of different landscapes in Dún Laoghaire-Rathdown County and the wider area.  Madigan makes sculptural constructions from modern day technological objects and places them in his detailed panoramic landscapes.  The sculptural constructions are always out of scale, which lends a surreal quality to these detailed paintings. By putting these objects within familiar landscapes, Madigan explores the influence of technology on society through cityscapes, seascapes and landscapes. He invites the audience to look again at both the landscape and the object within it.  A new large-scale sculpture also features in the exhibition.
Following a successful career in business, Dave Madigan (born Dublin, Ireland) retrained as a visual artist. He graduated in 2009 with a first-class honours degree in Visual Arts Practice from the Institute of Art, Design and Technology, Dún Laoghaire. He has exhibited in several group exhibitions in Ireland and is the recipient of numerous awards. Madigan's work is held in public and private collections including the Office of Public Works, DCU Business School and the Arts Council of Northern Ireland.
The Gallery Learning Programme offers many opportunities for people of all ages to interact with the gallery in different ways, learning about and trying out different art-making techniques. For further information go to https://www.dlrcoco.ie/arts
Image: David Madigan: The Circuit of Dún Laoghaire
Thursday 14 September – Sunday 26 November 2023
dlr LexIcon
Dún Laoghaire, Co. Dublin
Telephone: +353 1 271 9531
Opening hours / start times:
Monday – Thursday 10am – 8pm • Friday & Saturday 10am – 5pm • Sunday 12pm – 4pm
Admission / price: Free