Daragh Hughes: Black and White
Friday 23 March – Saturday 21 April 2012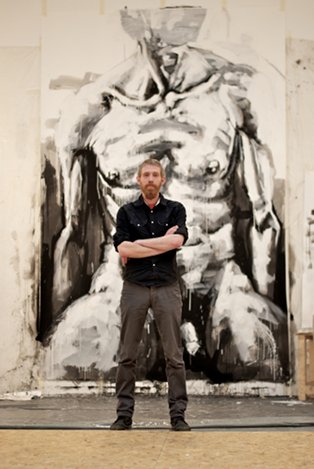 Opening Reception Thursday 22 March, 6-8pm
On Thursday March 22nd, the Sebastian Guinness Gallery will launch 'Black and White', the first major exhibition of paintings by emerging artist Daragh Hughes. Daragh is an Irish artist based in Dublin, who graduated from the Dublin Institute of Technology in 2006. As a figurative painter, Daragh's interest lies in the human body. His paintings exaggerate the nude and dramatically DE-idealise the body, capturing moments of awkwardness, pain or elation.
Due to the scale of Daragh's paintings the artist moved his studio in to the Sebastian Guinness Gallery on Dawson Street last month. The large-scale figurative pieces were painted on site in the gallery space, an unusual process for both artist and gallery and one which blurs the lines between the romantic ideal of the artists studio, and the gleaming white exhibition cube. Hughes jumped at the chance to work in the gallery and has transformed the usually spotless white walled space into a temporary studio, complete with magazine clippings tacked to the walls, tables covered in paint splashes and the random paraphernalia of the working artist.
The artists progress over the past month has been documented and uploaded onto the galleries social media platforms allowing the public access to the artists process in anticipation of the exhibition opening.
Tumblr – http://blkandyt.tumblr.com/
Youtube – www.youtube.com/SebGuinnessGallery
Twitter – https://twitter.com/guinnessgallery
Image: Photo: Eoghan Barry
Friday 23 March – Saturday 21 April 2012
42 Dawson Street
Dublin 2
Telephone: +353 1 679 2014
Opening hours / start times:
Tuesday 10:00 - 18:00
Wednesday 10:00 - 18:00
Thursday 10:00 - 18:00
Friday 10:00 - 18:00
Saturday 12:00 - 18:00
Admission / price: Free