Danny Osborne and Frieda Meaney: Landmarks and Lifeforms
Saturday 11 March – Thursday 20 April 2017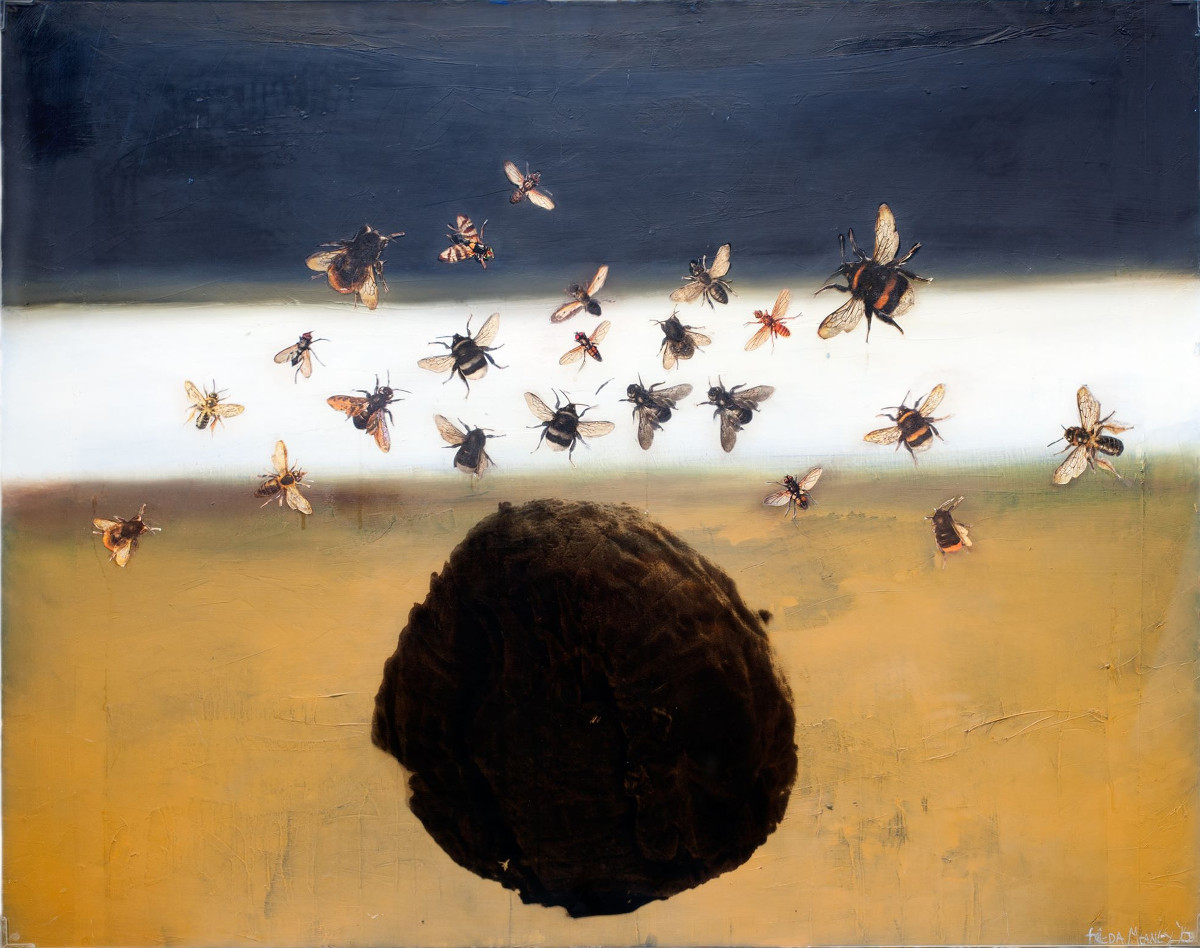 Sculpture cast from red hot lava, fin whale bones engraved with the whale's final journey before beaching, a video installation layering endangered fish with a chorus of birds and prints of dinosaur skeletons; these are some of the intriguing artworks that feature in the latest exhibition at Uillinn: West Cork Arts Centre.
Landmarks and Lifeforms is an exhibition by Danny Osborne and Frieda Meaney, two artists who live and work on the Beara Peninsula on the western seaboard. The artists' interests in geology, biology, marine science and zoology as well as travel and navigation is presented in this exhibition through painting, print, video installation and sculpture, combining scientific with artistic interpretations of the natural world. Their individual artworks are presented alongside a large collaborative print work where Osborne's images of cooled lava forms are placed side by side with Meaney's bird, gorilla and human heads.
The exhibition opens to the public on Friday 10 March at 7pm with guest speaker, writer and documentary maker Manchán Magan. A panel discussion with Frieda Meaney, Danny Osborne, zoologist Dr. John Quinn, and poet and navigator, Theo Dorgan will take place on Saturday 1 April at 12 noon.
Initiated and developed by Uillinn: West Cork Arts Centre, Landmarks and Lifeforms will be presented in different iterations at Limerick City Gallery of Art (7 September to 22 October 2017) and Highlanes Gallery, Drogheda (3 February to 14 April 2018).
The exhibitions at Uillinn: West Cork Arts Centre, Limerick City Gallery of Art and Highlanes Gallery have been made possible through the support of the Arts Council of Ireland's Touring and Dissemination of Work Award and the generosity of all venues
Image: Frieda Meaney: Omne vivum ex vivo, oil on canvas with printed perpex, 2016. Image Tomasz Madajczak.
Saturday 11 March – Thursday 20 April 2017
Skibbereen, Co Cork
Telephone: +353 28 22090
Opening hours / start times:
Monday to Saturday, 10am to 4:30pm
Admission / price: Free