Daniela Ortiz: They Will Burn with the Flame of the Mother's Torment and in Ashes Transform
Wednesday 20 October 2021 – Saturday 19 February 2022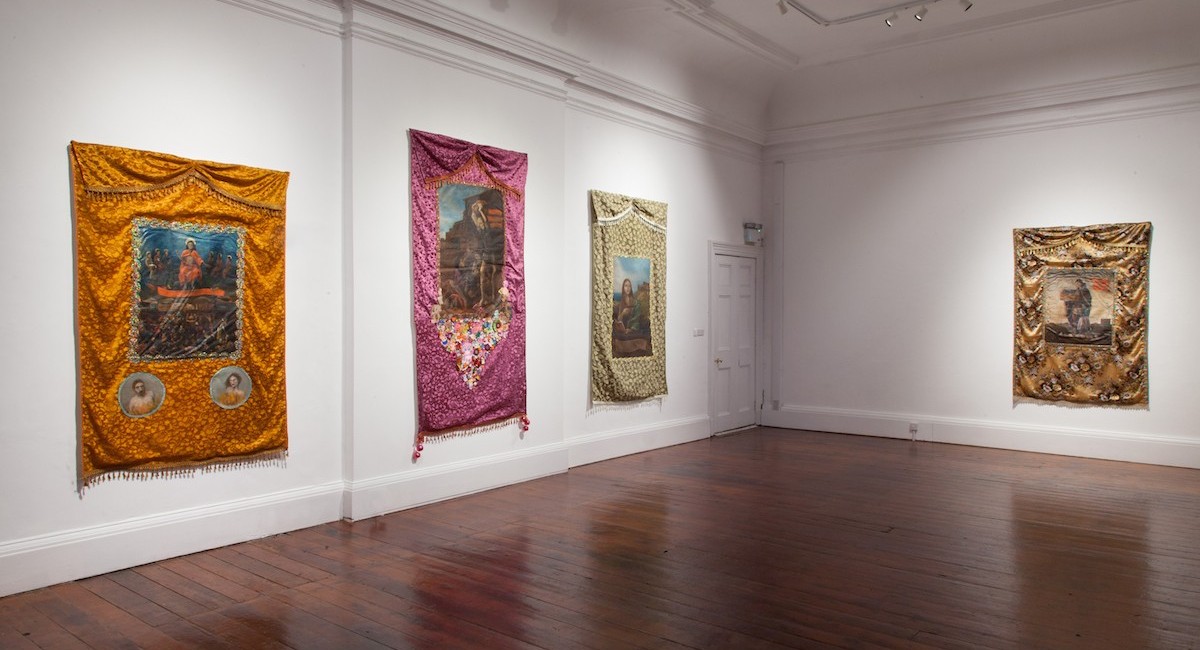 ――― In venue ―――
The artist Daniela Ortiz's exhibition They Will Burn with the Flame of the Mother's Torment and in Ashes Transform features works concerned with racist and patriarchal attitudes and practices, both historical and contemporary. The core of the presentation is a new series of banners commissioned by SIRIUS and made in collaboration with Peruvian women of Indigenous origin (Peru is the artist's native country).
Ortiz examines nationalism, class and gender divides, racism, and the construction of identity amid the contemporary legacies of colonialism and patriarchy. She specifically addresses morality codes, citizenship, and border control systems as enacted through the exclusion—and sometimes exploitation—of migrant communities, and racialized people more broadly. She is known for using her own lived experience as subject matter, for instance motherhood, displacement, feminist engagement, and the production of deviant and insurgent subjectivity.
Ortiz's new series of banners deals with misreadings and appropriations of biblical references that have subsequently led to the oppression of women. In each piece, Ortiz relates a historical religious painting to contemporary challenges faced by mothers and children. She took her inspiration from stories of the Magdalene Laundries—the church-led, workhouse-style operations that existed in Ireland from 1765 to 1996. These institutions were intended to house "fallen women" such as unmarried mothers, prostitutes, and young girls who had been abused but effectively imprisoned them, forcing their labor and isolating them from their communities. Ortiz's research led her to investigate state family policies—particularly custody laws authorizing the removal of children from their mothers—as well as other intellectual and sociological references, from religion to the Western pictorial tradition.
The title of these pieces (after which the exhibition is named)—They Will Burn with the Flame of the Mother's Torment and in Ashes Transform—recalls the ancient custom of women being burned at the stake for sinning or witchery. It suggests that from the ashes of those who have suffered and died in institutions, from the flames of religious obscurantism, women will rise like phoenixes. The mother's torment refers to the suffering of those whose children are forcibly removed—an action that is disproportionately applied to racialized mothers.
Other works in the exhibition include The ABC of Racist Europe (2017), which manifests the exhibition's themes through the lenses of European Union migration control policies. Ortiz made this work in collaboration with local single mothers from refugee backgrounds. The group decided how to illustrate the issues that have affected their lived experience in England in the context of their asylum-seeking process, especially their concerns for their children. The work is a series of prints originally conceived and produced as a children's book responding to nineteenth-century racist pedagogies. A classic example is An ABC for Baby Patriots by Mrs. Ernest Ames, an 1899 children's book whose images and blurbs demonstrate the imperialist and xenophobic values of Victorian Britain. Ortiz rewrote An ABC for Baby Patriots against its colonialist and white supremacist ideologies. She suggests that many of the same prejudices exist now as when Ames's book was published more than a century ago. The artist reveals this type of children's books as not only a tool for learning but also a means of instilling racist and patriarchal ideals among the young, contributing to the biased Western imagination of the "other" that still prevails today.
Ortiz finds art useful for her political investigations. She is not only alert to narratives of oppression but also collaborates with others through activism. Her key projects explore narratives of struggle and emancipation against white supremacist power as well as the ideological apparatuses by which government agencies and corporate interests collude to manage systems of immigrant surveillance, detention, and deportation. All of the featured works in this exhibition relate to spirituality, iconography, and knowledge through which the artist sheds light on human belief systems outside of the Western mindset, as well as persistent social injustices across the globe.
Curated by Miguel Amado, director of SIRUS.
Produced by SIRIUS.
Image: Daniela Ortiz, They Will Burn with the Flame of the Mother's Torment and in Ashes Transform 2021; installation view. Photograph: Brian Mac Domhnaill, SIRIUS
Wednesday 20 October 2021 – Saturday 19 February 2022
The Old Yacht Club
Cobh, Co. Cork
Telephone: +353 21 481 3790
Opening hours / start times:
Wednesday – Saturday, 11:00 – 16:00
Admission / price: Free