Creative Time Summit 2018
Friday 2 November 2018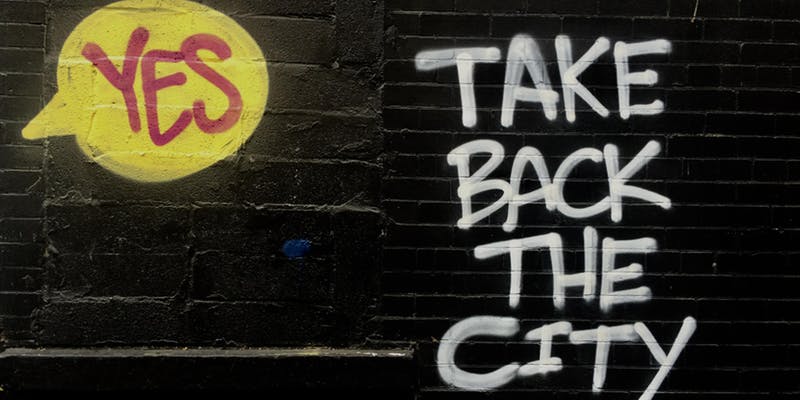 Creative Time Summit 2018 – Dublin screening & panel discussion
Join us for this international convening for thinkers, dreamers, and doers working at the intersection of art and politics
As an official off-site host, Create, Fire Station Artists' Studios and the National College of Art and Design's MA in Socially Engaged Art and Further Education are delighted to partner again to host this exciting live streaming of the Creative Time Summit, an annual presentation of the world's leading socially engaged artists and activists, coming this year direct from Miami, Florida.
Date: Friday 2 November 2018
Time: 3-11pm
Venue: Harry Clarke lecture theatre, National College of Art & Design, 100 Thomas Street, Dublin 8
Admission: Free (registration recommended)
Optional dinner by Luncheonette: €10 per person (registration required, payment in cash on the night)
More info & Reserve your place: https://creative-time-summit-dublin-screening-panel.eventbrite.ie
This year the Summit is titled On Archipelagos and Other Imaginaries: Collective Strategies to Inhabit the World, with four thematic sections:
– On boundaries and a borderless future
– Facing climate realities, reimagining a green future
– Towards an intersectional justice
– Resisting displacement and violence
RESISTING DISPLACEMENT AND VIOLENCE: DUBLIN PANEL, 6-7:30pm
Drawing connections between the thematics of this year's Summit and the Irish context, a live panel will discuss the theme of 'Resisting displacement and violence'. Resonating with the current housing crisis, growing resistance to the stark effects of inadequate policies for social and affordable housing and lack of equitable development in Dublin and other urban centres in Ireland, our panel brings together a number of perspectives, actively engaging in this emergency:
– John Bissett (Chair), Community worker and housing activist
– Fiona Woods, Artist and educator
– Lisa Crowne, Artist and co-director of A4 Sound Studios
– Orla Hegarty, Assistant Professor School of Architecture, Planning and Environmental Policy, UCD
– Lucky Khambule, Activist for migrant communities
"Across the world, from Miami to Istanbul, from Buenos Aires to Bucharest, forms of aggressive gentrification have become widespread, oftentimes signalling the rapacious influence of cultural trends. A considered resistance against the tide of urban development must also confront existing class inequality, structural violence and racial prejudice. Every city offers a different story, and there is much to be gleaned from the injustices felt and the struggles taking place at different breaths and rhythms. What new forms of engagement do artists, activists and other agents integrate into their environments? How can governments and policymakers support a cultural production that makes cities sustainable?" – Creative Time curators
All are welcome to join us for this event. Please make sure to register your place at https://creative-time-summit-dublin-screening-panel.eventbrite.ie . For any queries, please contact Fiona Whelan at whelanf@staff.ncad.ie or Vance Lau at vance@create-ireland.ie .
DUBLIN SCHEDULE
2:30pm – Welcome with tea & coffee
3:00pm – Screening starts
3:30pm – Creative Time Session I: On boundaries and a borderless future
4:25pm – Creative Time Session II: Facing climate realities, reimagining a green future
5:00pm – Optional dinner by Luncheonette at NCAD (registration required, payment in cash on the night)
6:00pm – Resisting displacement and violence: Dublin Panel
7:30pm – Creative Time Session III: Towards an intersectional justice
8:15pm – Break with light refreshments
8.30pm – Creative Time Session IV: Resisting displacement and violence
11:00pm – Finish
DUBLIN PANEL
BIOGRAPHIES
Fiona Woods
Fiona Woods works with aesthetics, critical spatial practice and modes of collaboration. Her current work is an exploration of public and counter-public productions of urban space in Limerick city. She is working towards a large scale event, Laboratory of Common Interest, to coincide with the centenary of the Limerick Soviet in 2019. Forthcoming publications include; "Community Devastation Project": Visualising the contrary logics of 'regeneration' through collaborative, arts practice-based research' co-authored with Cathal McCarthy, in DeSena and Krase (eds). Gentrification around the World: Innovative Approaches, Palgrave McMillan, [due 2019]. http://freespacelimerick.wixsite.com/fieldjournal
Lisa Crowne
Lisa Crowne is an artist and co-director of A4 Sounds. She holds a Postgraduate Diploma in Community Arts Education from NCAD and a BA Hons in Textile Design from GMIT. Her main project is A4 Sounds.
A4 Sounds is a nonprofit socially engaged arts workspace and gallery. Their politics are feminist, antiracist, anticapitalist, and LGBTQ+ inclusive. A4 provide a wide range of supports to 70+ artists and activists working in North Inner-City Dublin, and they have a particular goal of supporting cultural workers and activists who fight for social justice.
Since 2009 Lisa has curated numerous A4 exhibitions, developed the A4 Artist in Residence Programme, Supported Project Award, DIT Graduate Award, Curated Programme and the A4 Educational Programme. Focusing on the Dorset Street area, she has been developing relationships with the local community, organisations and businesses seeking to broaden access to the arts and education locally.
Orla Hegarty
Orla Hegarty is an architect and an Assistant Professor at the School of Architecture, Planning and Environmental Policy in UCD. Orla was previously in architectural practice in Ireland, UK and France. She contributes regularly to national broadcast and print media on the subjects of the built environment, the construction industry, regulation, procurement and housing. She has appeared as an expert witness to the Irish parliamentary committee on housing on subjects including: regulation in the construction industry, vacancy, housing standards and defects, fire safety and building control.
Lucky Khambule
Lucky Khambule is an organiser, campaigner and activist for the rights of asylum seekers, migrants and refugee communities in Ireland. He is a founding member of MASI-Movement of Asylum Seekers in Ireland. He lived in Cork for three years and campaigns for the end of direct provision. Ireland has been his home for the past six years and he has been active in multiple struggles for social justice, dignity and equality. He has a passion for collective and suggestive dialogue. He was instrumental in negotiating with An Cosán to offer 70 scholarships to people living in direct provision in 2017. Lucky is currently working with MASI, volunteering as a coordinator of the group. Lucky serves on the board of directors for Comhlámh in Ireland. He is also a member of Irish Housing Network as well as Dublin Tenants association. He is a driving force behind the right to work campaign.
John Bissett (chair)
John Bissett is a community worker in Dublin and has been involved in the longest running housing campaign in the Irish state on the lands of St Michael's Estate. He wrote the book 'Regeneration: Public Good or Private Profit' about this process. He is a member of Housing Action Now which is a collective of activists, public housing tenants and artists. Housing Action Now is one of the founding members of the European Action Coalition for the Right to Housing and the City. The coalition is attempting to build solidarity across housing activist groups across Europe and recently met in Lisbon bringing activist groups together from across Europe. John is currently working on a project researching the significance of class and gender in the lives of public housing tenants. John was a member of the Spectacle of Defiance and Hope which resisted the imposition of neo liberal austerity on the community development sector using creative methodologies of resistance in a range of forms.
Friday 2 November 2018
NCAD
100 Thomas Street
Dublin 8
Admission / price: Free