Crawford 100
Friday 25 May – Saturday 23 June 2012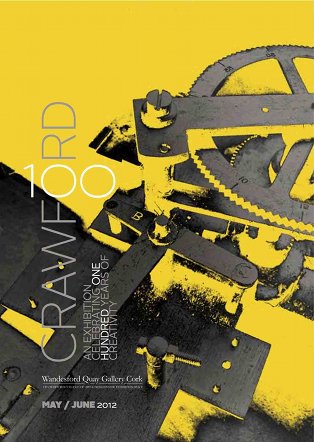 Opening Reception Thursday 24 May, 7pm
Celebrating a century of education at Sharman Crawford Street in Cork.
The Crawford's 100 years as an educational institution have seen it serve first as a Regional Technical College and more recently as
Crawford College of Art and Design.
A commemorative exhibition of selected work by staff at the Crawford College of Art and Design will be shown alongside archival material representing the many types of learning that have been promoted in the building.
Cliodhna Shaffery, a leading Irish curator, will mentor four recent graduates from CCAD in the curation of the show: Raphael Llewellyn, Lana Shuks, Tom Dalton and Tina Darb O'Sullivan.
Featured artists:
Julie Aldridge / Julian Campell / Colin Crotty / Sue Cunliffe / Jim Cummins / Jill Dennis / Jacinta Duff / Mark Ewart / Megan Eustace / Helen Farrell / Roger Hannam / Pamela Hardesty / Eileen Healy / Catherina Hearne / Catherine Hehir / Markus Jungmann / Breda Lynch / Roseanne Lynch / Hugh McCarthy / Ailbhe Ní Bhríain / Margaret O'Brien / Maureen O'Connor / Liam Rice / Geoff Steiner Scott / Padraig Trehy
Friday 25 May – Saturday 23 June 2012
Cork
Telephone: +353 21 4335210
Opening hours / start times:
Wednesday 10:00 - 18:00
Thursday 10:00 - 18:00
Friday 10:00 - 18:00
Saturday 10:00 - 18:00
Admission / price: Free