Conrad Frankel: War Paint
Sunday 10 April – Monday 2 May 2022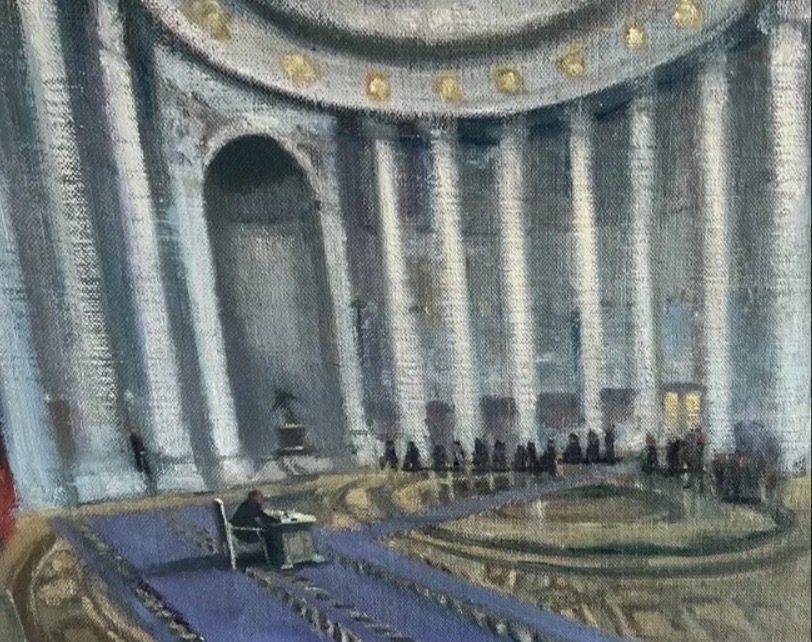 The Olivier Cornet Gallery is delighted to present War Paint, Conrad Frankel's third solo exhibition with us.
"For the last few months my mind, like nearly everybody's, has been occupied with the war in Ukraine. I've been checking the news 20 times a day. Since last September I have been working towards my upcoming solo show at the Olivier Cornet Gallery, a series of still lives with phantom like shadows cast by the use of two angle-poise lights. When Russian forces invaded Ukraine two weeks ago and Putin began his ultra-violent smash up in Ukraine, I felt compelled to turn my attention to the war as an artist. I just couldn't sit and paint still lives anymore. It felt wrong at this time-I had to paint the war, to show the horror of it, the inhumanity of it. I knew this wasn't going to be a commercial subject matter. However, every day since it began, I've chosen an image, mostly from the BBC website, or something similar, and painted it. 
By making this group of paintings, I hope to show the war to people afresh. Saturated, jaded by online media, I wanted to make paintings of the images we all see and know, and too quickly forget. Images that would resonate deeper by virtue of them being reimagined and abstracted in paint. 
I usually just use regular Windsor and Newton oil paint and whatever lead white I can buy. For this series I wanted to use something different to express the bleakness of the situation. I got some very fine sand from the owner of Athy foundry, and mixed it with a cold wax medium called Zest it, and another medium called Velasquez medium which is limestone based. To that mound of matter, I added my colours. The piles of paint I used were the size of golf balls, and very gritty because of the sand. It all crunched under my palette knives. It felt right when painting a convoy or a bombed maternity hospital to be using such rough stuff. The skies I made look like they have been painted with cement. The images are hewn from a slimy grit and the brushes and palette knives have been wearing down faster than usual. The experience is about the presence of things, a broken and bald world.
Having studied the press photos of the war closely I've realised that one war is ten million wars. So many actions happen to so many people in so many places that it's very hard to fathom what a war is. We can't imagine what's really happening even if we see the images online. We forget the news so quickly. Dasein was Heidegger's word for 'being there' or the experience of being that is particular to humans. In my paintings for this show I hope to take people into the icy convoys sliding off the snowy highway, up the road with the fleeing families lugging their wheely suitcases, and into a night group of hitchhikers hoping to get a lift away. I want to do something deeper with the news I can't stop looking at. To make it real in paint. To be there just a bit closer, and show how many places people are stuck in. With three weeks left I am working away every day, towards a show, and like many people, with an existential dread of what is to come before the show…"
Conrad Frankel
Creagh Castle, Doneraile, Co. Cork
Sunday 10 April – Monday 2 May 2022
3 Great Denmark Street
(beside Belvedere College)
Dublin 1
Telephone: +353 87 2887261
Opening hours / start times:
Tues to Fri: 11am to 6pm (till 8pm on Thursdays) • Sat & Sun: 12 noon to 5pm • Closed on Mondays (or viewing by appointment only)
Admission / price: Free