Conor Mary Foy: Adiaphora
Wednesday 30 October – Saturday 2 November 2013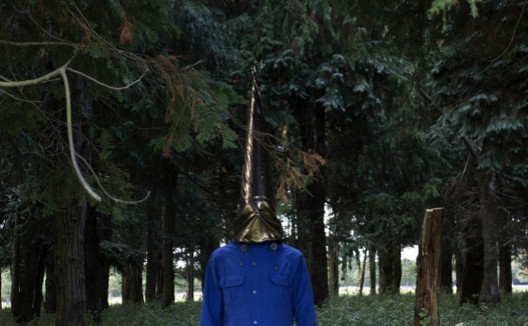 Opening reception Wednesday 30 October 6 – 8pm • Live performance 7.15pm
Adiaphora: a philosophy that signifies things outside of the moral law, i.e. actions, pursuits that are not sanctioned or forbidden, but indifferent. It holds the equal potential of swinging in favour of good or evil, a sense of looming possibility that things may take a turn for the worse, and simultaneously, knowing that the turn may never happen.
Conor Mary Foy's visuals are filled with loaded trinkets and symbols; there is a sense that the significance of these objects is perhaps, indifferent. Symbols encompass the opportunity and a readiness for appropriation; a platform for the eternal capability of potentials. This brewing possibility spills onto the context within Foy's video and photography work. Each scenario is placed within a neutrality, with no structure to discern in these scenes; historical, present or futuristic, and the presence of these loaded symbolic visuals sitting in a vague and un-telling backdrop is one that is easily very unfamiliar; what could be from our time or someone else's, from our world or the next. The sequential purposefulness of the narrative in these works progresses in tandem alongside the gearing of Adiaphora's fundamental implications; an impending, indifferent possibility of things. The cultish direction of Foy's video works strive towards the sense of a greater indifference.
Adiaphora is a solo exhibition by Conor Mary Foy consisting of video, sculpture, photography, live art and sculpture. The live art performance on the opening night will be one of the central elements of the exhibition.
Wednesday 30 October – Saturday 2 November 2013
Chancery Lane
Dublin 8
Telephone: +353 1 475 9514
Opening hours / start times:
Tuesday 10:30 - 17:30
Wednesday 10:30 - 17:30
Thursday 10:30 - 17:30
Friday 10:30 - 17:30
Saturday 11:00 - 17:00
Admission / price: Free