Colette Murphy: A Space In Time
Thursday 12 April – Saturday 5 May 2012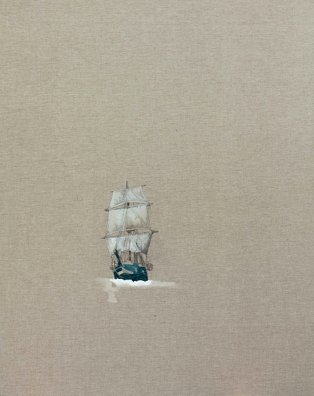 Opening Reception Thursday 12 April, 5:30 – 8pm
Peppercanister is pleased to present the first ever Dublin exhibition of new paintings by acclaimed New York Irish artist Colette Murphy.
Colette Murphy was born in New Ross in 1975 and emigrated to the U.S. at an early age. She studied at Hunter College, New York, and graduated with a Masters Degree in Fine Art in 2008. After that she commenced studio work in Brooklyn and her exceptional skill was quickly noticed by astute art collectors, and she was selected for inclusion and illustration in The Open Studios Press publication New American Paintings, 2011.
She won the Tony Smith Award in 2009 and the Estelle Levy Award for painting in 2008. Since then her paintings have been exhibited in New York, London, Berlin and Venice and works have been purchased for private and public collections internationally. She is now represented by the Dean Project, Long Island City New York, the Emerson Gallery in Berlin, and the Peppercanister Gallery in Dublin.
The Dublin exhibition marks a departure in her exciting quasi-representational practice. Large scale paintings with images of sailing ships and floating icebergs convey a somewhat apocalyptic view of a melting planet.Her paintings contain a lot of water and there seems to be a return to the biblical story of Noah's ark and the Great Flood. In the painting Endurance oil on linen 152 x 122cm, the ship is a beacon of hope, and so it seems there are contradictory emotions in her view of a world of doom and complete catastrophe yet filled with optimism for some miracle to occur in the last hour. Concurrently they also recall the perils faced
by emigrants from New Ross and Ballyhack to Newfoundland in the 18th and 19th Centuries, for the cod fishing industry. Earlier work included riveting enigmatic depictions of ghostly hunt horses and riders in the countryside. The artist states that these are allegorical studies from an inner dialogue regarding politics, social criticism, and fantasy. She is concerned for the global environment, which is under such threat from the explosion of the human population in the most recent century.
"My work bears the weight of an unbearable emotional response to the events around us. I paint to survive the impact."
Her Dublin exhibition will be formally opened by Carey Clarke RHA., the past President of the Royal Hibernian Academy, a distinguished Irish landscape and portrait painter in his own right.
Image: Colette Murphy: Endurance, oil on linen, 152 x 122 cm
Thursday 12 April – Saturday 5 May 2012
3 Herbert Street
Dublin 2
Telephone: +353 1 6611279
Opening hours / start times:
Tuesday 10:00 - 17:30
Wednesday 10:00 - 17:30
Thursday 10:00 - 17:30
Friday 10:00 - 17:30
Saturday 10:00 - 13:00
Admission / price: Free
Closed Mondays and Bank Holiday weekends.