Cloud Illusions I Recall
Saturday 22 June – Sunday 25 August 2013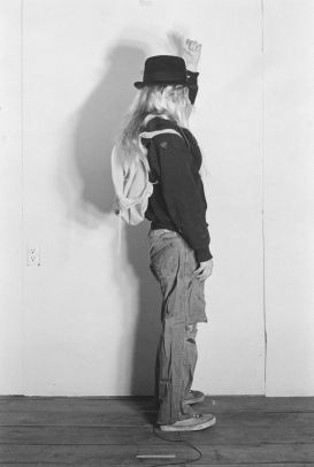 Opening Reception Friday 21 June from 6pm, New Galleries
Cloud Illusions I Recall explores the relationship between visual art and cinema. The Irish Museum of Modern Art invited artists Dominique Gonzalez-Foerster and Cerith Wyn Evans to exhibit their work and explore concepts of the poetic and imagination that together make up the cinematic experience, thereby investigating the relationships and influence of film.
Through a series of conversations, Gonzalez-Foerster and Wyn Evans explored this influence of the cinematic as a theme for the show, and then expanded the exhibition through selected diverse works from filmmakers, writers and artists. Both artists nuanced selection of installations, video, film, painting, text and events showcases the long-standing legacy of cinema as a source of inspiration for artists since its formation. The exhibition presents a dialogue with cinema that reveals the rich interplay between the two genres.
Dominique Gonzalez-Foerster explores cinematic conventions, temporality and subjective experience; her short films and installations recreate specific moments in which individuals intersect with places – highlighting the individual traces of cultural and social contexts. Her quiet, intimate interrogation of contemporary urban life spills into her conversations and her selection of art works with Cerith Wyn Evans for the exhibition. Wyn Evans's work stems from his interest in language and communication. He uses found fragments from literature, philosophy and film that he distils into a distinct aesthetic. His use of repetition and elliptical meaning in his work indicates endless possible readings. This is echoed by his choice of (artistic and literary) quotations replete with both classical and personal implications.
Cloud Illusions I Recall, which takes its title from Joni Mitchell's 1969 classic song 'Both Sides, Now', offers a unique and wide-ranging exploration of the relationship between art, cinema and the world we inhabit. Cinema has the power to affect our state of mind, with the classic themes on offer such as love, suspense and the melancholic, altering how we perceive the world around us. Cloud Illusions I Recall includes some rare works, not seen for decades, and others created especially for the Irish Museum of Modern Art.
The exhibiton features works that span generations and includes some of the most important artists of recent times, such as Marcel Broodthaers, James Coleman, Peter Doig, Allen Ruppersberg, Ed Ruscha, Cindy Sherman and Andrey Tarkovsky, along with the Victorian photographer Clementina, Lady Hawarden. Film screenings of Michael Powell and Emeric Pressburger's iconic The Red Shoes, 1948, are also included.
A special work/event has been created for Cloud Illusions I Recall, a choral performance of Samuel Beckett's Imagination Dead Imagine, conceived by Cerith Wyn Evans for IMMA. This is, as Wyn Evans explained and coined the phrase, a 'constructed occasion'. This fluid approach to the exhibition displays the same playfulness and self-reflexive awareness that generated this performance. Gonzalez-Foerster will also perform a new work based on her ongoing work, M.2062, a fragmented opera that started during the Memory Marathon (2012) at the Serpentine Gallery, London. This continuing performance stands as a moment within a body of work by Gonzalez-Foerster centrally concerned with literature and musical adventures in the spirit of Werner Herzog's epic 1982 film Fitzcarraldo and King Ludwig II of Bavaria's fascination with Wagner. The events within Cloud Illusions I Recall transform IMMA into a place with the unique dynamic and character of the 'live' situation offered by the artists.
A fully-illustrated artists' book, published by IMMA, will accompany the exhibition.
IMMA Limited Edition
An exclusive limited edition print has been created by artist Peter Doig for the Irish Museum of Modern Art on the occasion of Cloud Illusions I Recall, and is available from the Museum shop, price €80.00.
Talks and Events Programme
There is an extensive talks and events programme accompanying this exhibition which draws on the cinematic impulses of contemporary artists, addressing the cultural potency of cinema's social, psychological and dissemination structures in art, film and everyday life.
Discussion + Screening | Art and Film – The Magnificent Obsession
Dominque Gonzalez-Foerster on Chris Marker
Saturday 22 June, 1.00pm, Irish Film Institute, Eustace St, Dublin 2
Dominique Gonzalez-Foerster, Rachael Thomas and others discuss the artist's interest in the influential work of film essayist Chris Marker, and her choice of films for the Chris Marker Screening Series at the IFI. This is followed by the first screening of Marker's acclaimed film La Jetée, 1962. This event is in collaboration with the Irish Film Institute.
Lecture | Cinema as Art Project
Sunday 7 July, 3.00pm, the North Range, IMMA
Maeve Connolly (writer and Lecturer, IADT) presents a lecture on the cinematic turn in contemporary art practice theorised through reference to a variety of projects. Connolly addresses the attraction of social forms of the cinematic in public art, through reference to exhibition histories and practices associated with the movie theatre and art museum.
Artists Discussion | My Cinematic Impulse
Wednesday 9 July, 5.30pm, the North Range, IMMA
This discussion explores the cinematic impulses of Irish film artists and makers to address a new generation's nostalgic view of a vanishing medium of the cinema canon. Exploring the complex and ever evolving relationship of art and film, practitioners recall first memories and experiences of film and discuss the gradual absorption of the cinematic language in their own work. Speakers include artists Ronan McCrea, Jaki Irvine, Clare Langan, and curator Cliodhna Shaffrey.
Lecture | Cinema fever in the everyday world
Wednesday 17 July, 5.30pm, the North Range, IMMA
This talk gives a historical perspective on the infectious status and relationship of the still, moving and cinematic image in everyday culture. Examining cinema's fever as a mass medium for artists to utilise, this talk explores changing modes of film distribution and reception from popular, mass and viral cultures, to recent waves of film clubs and artists' collectives. Presented by Martin McCabe (Lecturer in Photography, DIT), and Tony Tracy (Lecturer in Film, Huston School of Film and Digital Media, NUI Galway).
Gallery Talk | Artists Responses
Fridays in July, 1.00pm, New Galleries, IMMA, RHK
Contemporary artists present their response to Cloud Illusions I Recall, and discuss their own ideas concerning the imagination, language and construction of cinema and its influence in contemporary art practice.
Booking is essential for all talks. To book please click here
Image: Cindy Sherman: Untitled # 428, 1976 / 2005, b/w photograph, 19 x 12,7 cm (unframed), 7,5 x 5 inches (unframed), 25,4 x 20,3 cm (framed), 10 x 8 inches (framed), Edition 3/20, MSPM CSH 05680, Courtesy of the artist, Metro Pictures New York and Sprueth Magers Berlin London.
Saturday 22 June – Sunday 25 August 2013
Royal Hospital, Kilmainham
Dublin 8
Telephone: +353 1 612 9900
Opening hours / start times:
Tuesday 11:30 - 17:30
Wednesday 11:30 - 17:30
Thursday 11:30 - 17:30
Friday 11:30 - 17:30
Saturday 10:00 - 17:30
Sunday 12:00 - 17:30
Admission / price: Free
Bank Holidays open 12:00 – 17:30.