Claire Halpin: Augmented Auguries
Thursday 8 September – Sunday 9 October 2022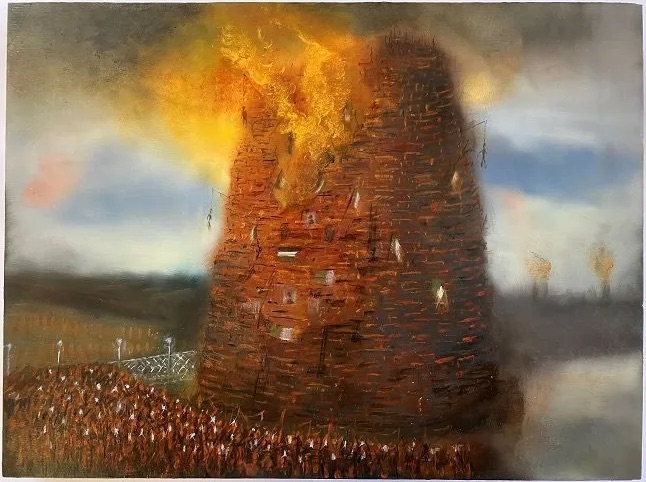 ――― Venue + online ―――
The Olivier Cornet Gallery is excited to present Claire Halpin's first exhibition at the gallery since the monumental Jigmap series of works was acquired and exhibited at IMMA in its museum wide exhibition The Narrow Gate of The Here and Now – Chapter Four: Protest and Conflict. This has significantly positioned Claire's paintings in an international context of contemporary and historically acclaimed political artists looking at protest, conflict, contested histories and responding to the global issues of our times. It has also brought a wider audience nationally and internationally to her work and practice.
Also online in Gallery's 3D Virtual Space from 18:30 Thursday 8 September 2022
This timely exhibition – Augmented Auguries – brings together an ambitious body of Claire's work developed over the last two years building on themes and concepts previously explored in her paintings. Responding to sites of conflict and contested histories internationally from the Pandemic, storming of the Capitol, to the war in Ukraine, now Claire turns her lens to national conflict and protest in Northern Ireland. The spectacle and theatrics of conflict and protest are documented and recorded through paint. The works attempt to navigate the complexity of the contemporary theatre of war and cultural wars as battlefields move to the battlespace of the online and livefeed of news, images and social media. All played out in the steady stream of content, real, fake and created by whom for whom and for what intent and future consequences in writing history.
The exhibition title – Augmented Auguries – links the livefeed of news and social media via satellite and drones to the ancient Roman practice of augury – the interpreting of omens from the observed behaviour of birds, and the sometimes fabricated auspices that could be used to pervert a political course of action.
"With the recent paintings I have attempted to respond in a more immediate way through a loosening of the handling of the paint, allowing a movement and blurring on the gessoed surface – a slight shift from the heavily worked complex compositions of the Jigmap Series. Attempting to create a painting of a particular event, incident, atrocity – contesting history and recording future history. All to the backdrop of the canon of art history, the complex compositions and multiple narratives of Early Renaissance and Byzantine painting."
The exhibition is accompanied by a text of conversations between art historian Dr Brenda Moore-McCann and Claire Halpin in her studio.
Claire Halpin is a Dublin born and based artist, curator and arts educator. She graduated from D.I.T, Dublin with B.A Honours in Painting (1996) and went on to complete her Masters in Fine Art at Gray's School of Art, Aberdeen, Scotland (1998).
In 2021, IMMA / Irish Museum of Modern Art acquired three paintings from the Jigmap Series for the IMMA Collection. They are currently on exhibition at the Irish Museum of Modern Art in Chapter Four of The Narrow Gate of the Here and Now: Protest and Conflict at IMMA until November 2022.
Claire has exhibited widely in group exhibitions in Ireland and internationally including – 192nd Royal Hibernian Academy Annual Exhibition, Dublin 2022, Outrageous, Obscene and Offensive, Olivier Cornet Gallery, Dublin, Cáirde Visual, Hamilton Gallery, Sligo 2022, Highlanes Open Submission 2020, Highlanes Gallery, Drogheda; 38th EVA International, Ireland's Biennial, Limerick City 2018 (Curator Inti Guerrero); Utopia Dystopia, dlr Open Exhibition, Municipal Gallery, dlr LexIcon, Dún Laoghaire, 2019, Sculpture in Context 2022, Botanic Gardens, Dublin; Water Tower Art Festival, Sofia, Bulgaria and The Bulgarians are coming, Standpoint Gallery, London.
In 2018 Claire was shortlisted for the prestigious Savills Art Prize at VUE Art Fair, RHA Dublin and in 2017 won the dlr Open Award at the Municipal Gallery, dlr LexIcon selected by art critic Gemma Tipton.
Claire's recent solo exhibition DECK – A Collection of Found Playing Cards at The LAB Gallery, Dublin (2022) and recent solo shows include Raw War (2019) and Glomar Response (2016) at Olivier Cornet Gallery, Dublin, Reconstructions at Talbot Gallery in 2011 and at Droichead Arts Centre in 2012.
Claire's paintings are included in many national, university, corporate and private collections in Ireland and abroad including IMMA/ Irish Museum of Modern Art Collection, O.P.W State Collection, Trinity College Art Collection, TU Dublin, University Art Collection, Louth County Council Collection, Cavan County Council Collection, Imago Mundi, Benetton International Art Collection, AXA Insurance, A.I.B Art Collection, The Four Seasons Hotel, Clarion Hotels, Blackrock Hospice Foundation, Smirnoff Collection.
Claire is represented by Olivier Cornet Gallery, Dublin with solo exhibitions at the gallery – Glomar Response (2016) followed by Raw War (2019) and Augmented Auguries (September 2022).
Thursday 8 September – Sunday 9 October 2022
3 Great Denmark Street
(beside Belvedere College)
Dublin 1
Telephone: +353 87 2887261
Opening hours / start times:
Tues to Fri: 11am to 6pm (till 8pm on Thursdays) • Sat & Sun: 12 noon to 5pm • Closed on Mondays (or viewing by appointment only)
Admission / price: Free