Civil Rights: We have it in our power to begin the world over again
Saturday 25 October – Saturday 20 December 2014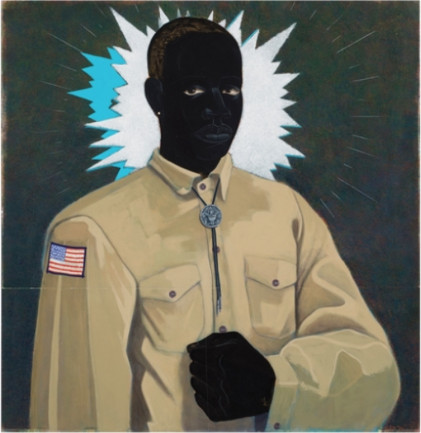 Opening Reception Saturday 25 October, 7:30 – 10pm • Guest speaker Eamonn McCann
Kara Walker – Lorna Simpson – Ellen Gallagher – Glenn Ligon – Adam Pendalton – Hank Willis Thomas – Kerry James Marshall – Mark Bradford – Radcliffe Bailey – Black Panther Collection
Curated by Lynette Yiadom Boakye & Maolíosa Boyle
We have it in our power to begin the world over again is a quote by the political activist and theorist Thomas Paine who believed in the possibilities of change and the ultimate power of people. The concept for the exhibition originated in a conversation in October 2013 while Maolíosa Boyle was curating Lynette Yiadom Boakye's work as part of The Turner Prize.
Both women are interested in the confluence of their social and political histories and how this is referenced within contemporary art.
The exhibition looks at the Black Civil Rights movement through historical photographs, documents and contemporary art and explores how it impacted on Civil Rights in Derry and N. Ireland. It traces the convergent histories of both places in the struggle for change and the equality of citizenship and highlights how issues of civil and human rights continue to be present concerns.
Image: Kerry James Marshall: Scout Master, 1996, acrylic on paper on wood; © Kerry James Marshall. Courtesy of the artist and Jack Shainman Gallery, New York.
Saturday 25 October – Saturday 20 December 2014
Patrick Street
Derry BT48 7EL
Telephone: +44 28 7130 8080
Opening hours / start times:
Tuesday 11.00 - 17:00
Wednesday 11.00 - 17:00
Thursday 11.00 - 17:00
Friday 11.00 - 17:00
Saturday 11.00 - 17:00
Admission / price: Free