Christmas 2013
Friday 6 December – Tuesday 24 December 2013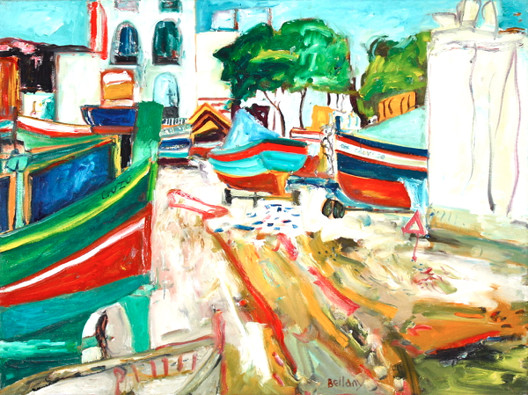 Opening Reception Thursday 5 December, 5:30 – 8pm
This year the Peppercanister Gallery will round up 2013 with an exhibition of 24 diverse artists.
Remembering John Bellany who died in August, the gallery pays tribute to this great Scottish artist who lived life to the full. The exhibition will feature a couple of works in oil and watercolour.
The year also saw the loss of the late, great poet Seamus Heaney who was a patron and friend of the gallery. Both men sadly missed by many.
Albert Irvin who marked his 92nd birthday this year, continues to work his vibrant, colourful magic on the canvas. Honoured with an OBE from Her Majesty the Queen this autumn, his new work is as strong as ever.
Newcomer to the gallery is artist Marguerite Horner. Born in England of Irish parents, this is her first time to exhibit in Ireland, and her monochromatic, photo-realist paintings are dreamlike, evocative and intriguing.
Sculpture from Sharon Belton and Deirdre Hayden accompany a full and exciting exhibition.
John Bellany | Liam Belton | Sharon Belton | Anne Donnelly | Michelle Dovey | Graham Gingles | Deirdre Hayden | Marguerite Horner | Albert Irvin | Brian King | Alexey Krasnovsky | Sonja Landweer | Sarah Longley | Deirdre McLoughlin | Eddie Mooney | Abigail O'Brien | Joseph O'Connor | Tony O'Malley | Robert Ryan | Neil Shawcross | Andrew Vickery | Conor Walton | Simon McWilliams | Charlie Whisker and others.
A huge thank you to everyone who came and supported the gallery this year.
The gallery will re-open on 7th January 2014.
Image: John Bellany OBE RA (1942 - 2013): Calipso, oil on canvas, 48 x 63 cm
Friday 6 December – Tuesday 24 December 2013
3 Herbert Street
Dublin 2
Telephone: +353 1 6611279
Opening hours / start times:
Tuesday 10:00 - 17:30
Wednesday 10:00 - 17:30
Thursday 10:00 - 17:30
Friday 10:00 - 17:30
Saturday 10:00 - 13:00
Admission / price: Free
Closed Mondays and Bank Holiday weekends.