Chris Wilson: Alignments
Friday 11 May – Tuesday 5 June 2018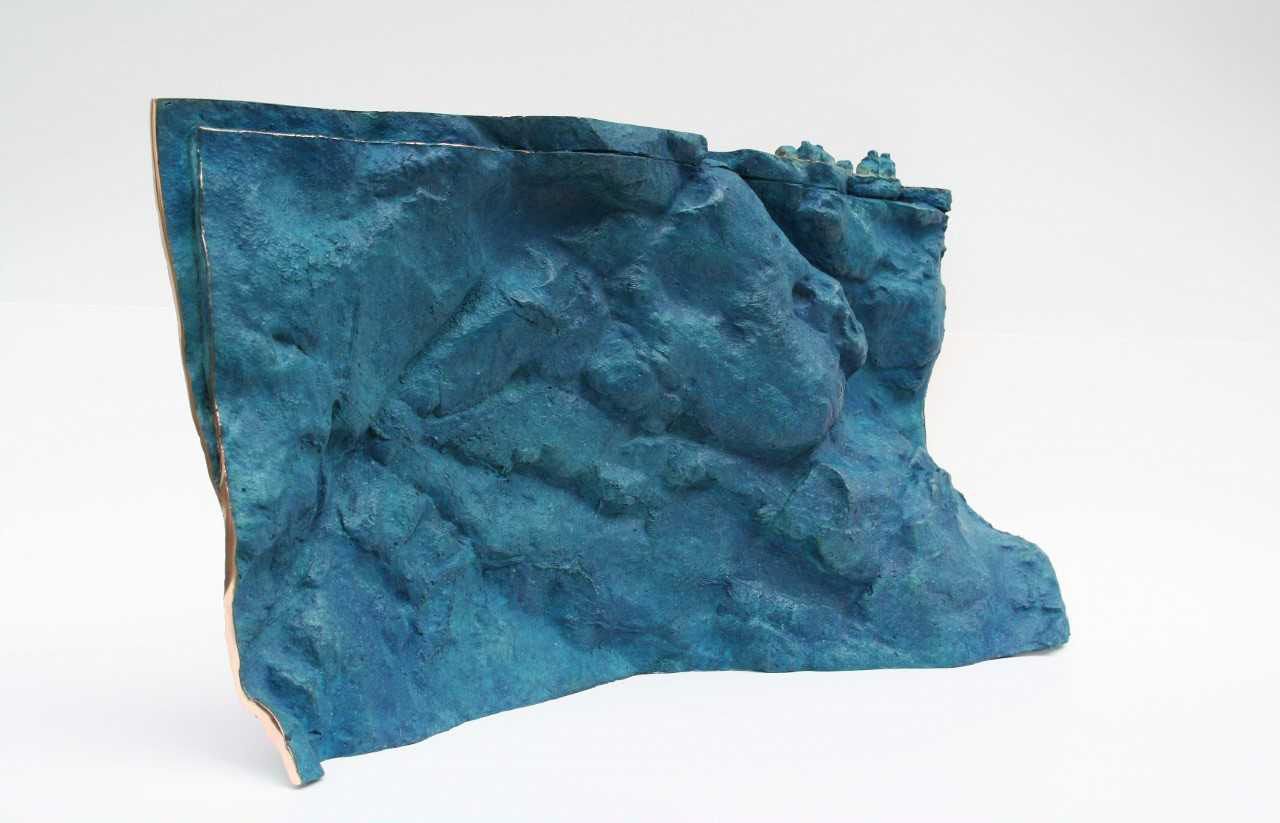 Gormleys Fine Art, Dublin are delighted to announce solo exhibition 'Alignments' by acclaimed Irish artist Chris Wilson.
This exhibition will consist of new works completed over the past two years, continuing the artist's interest in landscape from a contemporary perspective. The surfaces of these pictures carry a history of mark making, exploring boundaries, and ideas of ownership and the passage of time. The composition and textures reflect the weight of geological time, juxtaposed with the fragile human geography of place and belonging.
The development of these recent works extends Wilson's interest in how to represent landscape from a contemporary view point; they are an exploration of landscape where each image combines shifting perspectives and multiple viewpoints as a means of exploring our complex relationship with the modern landscape. They aim to connect the immediate and the local, the ground on which we stand, to a larger more universal space, a larger sense of place.
"Wilson has pared away maps and the layers of human interventions and like a tenacious and rigorous archaeologist brings us face to face with the vulnerable fissures below our feet. Beneath man-made hedges, borders and boundaries, a brittle and volatile earth tenuously supports all the faint visible signs of human habitation and the ghostly greys and multi layered tonalities serve to compound the sense of uneasy fragility and transience".
-Terry Sweeney, March 2011
"My work is inspired by the coastline where I live. The paintings and sculptures use the textures and strata of the rocky shoreline of the North Antrim coast and they transform a small part of this geology into a much larger universal landscape.
The traditional linear landscape perspective is displaced by an aerial perspective, creating landscapes as if viewed from above, and this shift of perspective, while creating a larger sense of landscape, also questions my "sense of place", of attachment and belonging".
-Chris Wilson, May 2016.
"The paintings register time directly when Wilson modulates the greys in seemingly endless shades with undeniable conviction of certainty. The viewer is persuaded to read abstraction as having defined power of description and spatial co-ordinates. It is not an endless universe, it is this landscape around you – even when you see those are thin sheets of matter, light as a golden leaf – easily pierced, thus vulnerable.
The careful brushwork paints respect for the landscape whether observed or imagined. And, yes, there are dreamy elements lodged between the shades of grey. They offer numerous simple yet poetic passages, for the eye to cherish and the mind to enrich itself with – like a set of sonnets".
-Dr Slavka Sverakova, review of Dwelling Place, Oriel Gallery, January 2016.
"The layers of these landscapes, of folds and strata speak of cyclical time…ancient, they also speak of a shorter cycle of time, the small houses and buildings connect with human timeframes. The use of colour is restricted to a tonal range of soft greys through to deep black and as one reads across the surfaces of these paintings and follows the folds of strata….on the one hand you follow the folds of the weight of stone and this leads one to the folds of paper, one moves from enormous weight and depth to the fragility of paper. The small houses perched above or below, on the edge, or under this weight of stone and granite speak of fragility and vulnerability".
-Dr Yvonne Scott, Director, Triarc (Trinity College Irish Art Resource Centre) November 2014
They are created through the application of successive layers of paint and drawn elements, each layer slightly obscured by the next. In places these hidden histories of marks are more visible, they indicate shifting patterns of roads and pathways, of field boundaries but they also reflect a timeline of rocks and strata below the surface indicating displacements, ruptures and folds. The surface becomes a canvas on which I draw lines, create borders and boundaries. The multiple perspectives and changing viewpoints evident in these works indicate the continuously changing nature of the landscape.
Chris Wilson was born in 1959 in Glengormley, Co. Antrim. He gained a B.A.(Hons) Fine Art from Brighton Polytechnic in 1982 and an M.A. Fine Art from the University of Ulster in 1985. His first exhibitions were in Belfast at the Crescent Art Centre (1985), the Fenderesky Gallery (1986) and the Project Arts Centre, Dublin (1987). He has received numerous awards including the Bass Ireland Arts Award in 1986, Arts Council of Northern Ireland awards (1987, 1991, 2002, 2004), British Council Awards (1992, 1993, 1997). For the last 30 years he has exhibited regularly having over 20 one person shows and participated in numerous group exhibitions in Ireland, the UK, Canada, Croatia, Germany, France, Bulgaria and USA. 
In 2016 he was awarded the RUA Gold Medal and the Paul Henry Landscape Prize at the 134th Royal Ulster Academy Annual Exhibition.
He has exhibited widely throughout Ireland, UK, Germany and USA and his work is represented in many public and private collections including the Arts Council of England, Arts Council of Northern Ireland and Ireland; Translink, Belfast; Bombardier, Montreal; the Office of Public Works, Dublin; the Department of Foreign Affairs, Dublin ; Irish Life, Dublin; McNamara Foundation, Maine, USA; British Telecom; Sport NI at the Tollymore National Outdoor Centre; University of Alabama and Queens University amongst others. 
Wilson has completed over 15 large scale public realm commissions including most recently "Gateway" (2015) at Centenary Quay, Southampton for Crest Nicholson; "Trading Place" (2014) in Newry, Co. Down ; "Timeline" (2013) Dungannon; "Horizons" (2011), for the Property Registration Authority, Roscommon; "Shorelines "(2011) at Jordanstown Loughshore Park; "Threads of Time" (2010) at Theatre Place, Mossley Mill, Newtownabbey and "Riverlines" at Toome Bypass commissioned by TIDAL in 2006.
Image: Chris Wilson: Atlantic Edge II
Friday 11 May – Tuesday 5 June 2018
27 South Frederick Street, Dublin 2
Telephone: +353 1 6729031
Opening hours / start times:
Monday 10:00 - 17:30
Tuesday 10:00 - 17:30
Wednesday 10:00 - 17:30
Thursday 10:00 - 19:00
Friday 10:00 - 17:30
Saturday 10:00 - 17:30
Admission / price: Free