Charles Tyrrell: Two Paths
Friday 14 October – Monday 14 November 2016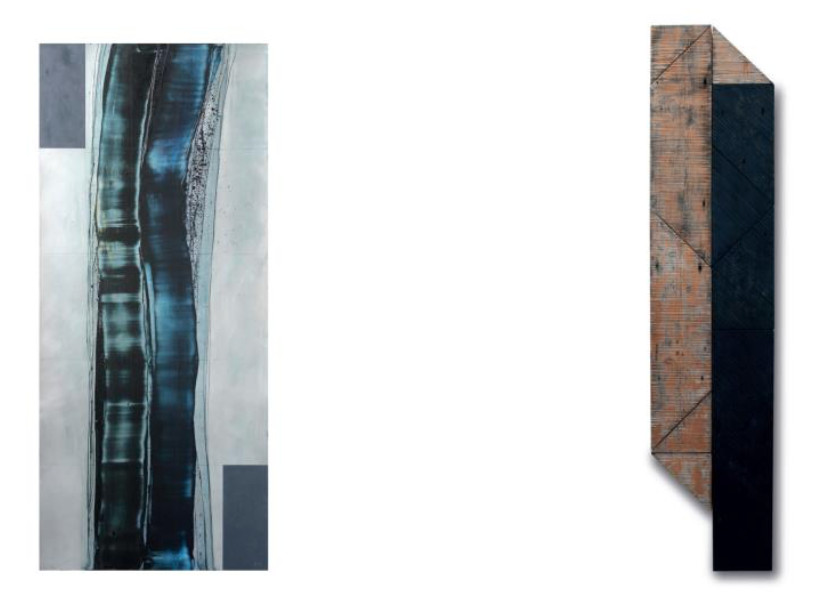 Taylor Galleries is proud to present Two Paths, an exhibition by Charles Tyrrell which brings together two strands the artist's work from the past four years: his work on aluminium and recent timber constructions.Charles Tyrrell has been engaged with aluminium to varying degrees since 2000, and from 2013 to 2015 worked exclusively with the metal. The artist says of the aluminium work: "These paintings on metal are fast; they are caught in a moment. The nature of their making demands swiftness of movement and thought. It excludes the possibility of slow steady building but rather only allows for real consideration of the immediate". In contrast, the more recent wall-mounted timber constructions come from a slower physical engagement. In the early 1980s Tyrrell worked with floorboards salvaged from St. Peter's Church on Aungier Street in Dublin, prior to its demolition. Still having a quantity of this material in storage he decided to re-visit this arena more than thirty years later.
Speaking of these two strands of work Tyrrell says: "While these timber constructions came about through a diametrically opposed process to the fast, quick, in-the-moment process of the work on aluminium, I see the two paths converging in their attempt to create absolute images where there is a liaison between the organic and inorganic. Where nature interfaces with human contrivance and finds accommodation, locking into new dynamic relationships".
Born in Trim, Co. Meath in 1950, Charles Tyrrell studied at the National College of Art and Design, Dublin, graduating in 1974. Since 1984 has lived and worked on the Beara Peninsula in West Cork. Always engaged with abstraction, his work comes from a minimalist starting point and leaving room for the intuitive builds towards work that reaches out and resonates. Tyrrell has been represented by Taylor Galleries since 1978. A member of Aosdána, his work features in private and public collections both in Ireland and abroad.
Friday 14 October – Monday 14 November 2016
16 Kildare Street, Dublin 2
Telephone: +353 1 676 6055
Opening hours / start times:
Monday 10:30 - 17:30
Tuesday 10:30 - 17:30
Wednesday 10:30 - 17:30
Thursday 10:30 - 17:30
Friday 10:30 - 17:30
Saturday 11:00 - 15:00
Admission / price: Free