Charles Tyrrell: New Paintings
Saturday 15 August – Saturday 19 September 2015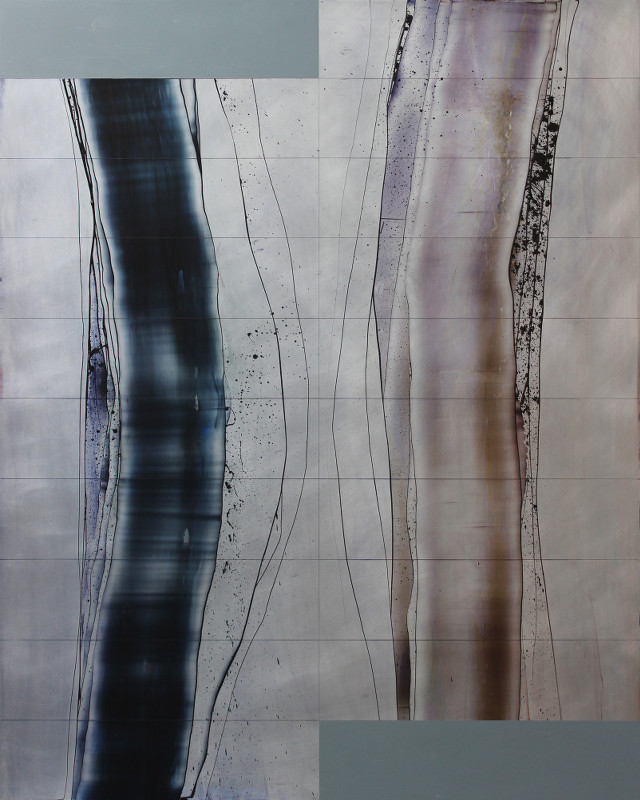 This new collection of paintings by Charles Tyrrell continues his explorations with paint on aluminium.
The artist has worked with aluminium for many years, usually alongside working on canvas, enjoying the contrasting and complementary nature of the two grounds. However for the past three years he has been working exclusively on aluminium. The paintings in this exhibition have grown from the very particular response of the paint to the metal ground; a ground that has been scoured and in which a geometric frame work has been engraved.
The paintings attempt to achieve a distillation and intensification of the artist's experience of the manifest world; working with natural forms and forces set within the armature of the conscious and the rational.
Charles Tyrrell originally comes from Trim Co. Meath. He studied painting at the National College of Art and Design, Dublin. After graduating in 1974 he continued living and working in Dublin until 1984 when he moved with his family to Allihies on the Beara Peninsula in West Cork.
He has exhibited extensively in Ireland as well as exhibitions in Britain, France, Austria and Germany and most recently, Japan. He
has represented Ireland on a number of occasions, notably the Paris Biennale and the International Festival of Painting at Cagnes-sur-Mere in France.
Charles Tyrrell is a member of Aosdána, an affiliation of artists, established by the Arts Council of Ireland to honour those whose work has made an outstanding contribution to the arts in Ireland. He is represented by Taylor Galleries, Dublin.
Image: Charles Tyrrell: A19.15, oil on aluminium, 50 x 40 cm
Saturday 15 August – Saturday 19 September 2015
Skibbereen, Co Cork
Telephone: +353 28 22090
Opening hours / start times:
Monday to Saturday, 10am to 4:45pm
Admission / price: Free