Charles Tyrrell: New Paintings
Friday 11 April – Saturday 3 May 2014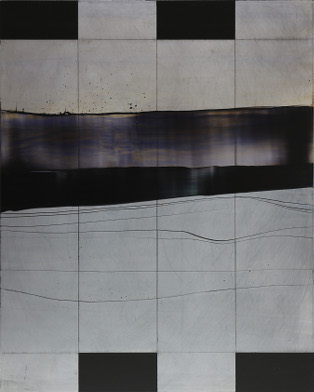 Opening Reception Thursday 10 April, 6 – 8pm
Taylor Galleries is delighted to present an exhibition of 'New Paintings' by Charles Tyrrell that runs at the gallery from 11 April to 3 May 2014. The exhibition opens 40 years after the artist's first solo show at Project Arts Centre, Dublin in 1974, which took place when he was still a student at the National College of Art and Design.
All the paintings in this new body of work are on aluminium. Tyrrell has worked with aluminium for many years, usually alongside working on canvas, enjoying the contrasting and complimentary nature of the two grounds. This is the first prolonged period of total absorption in the metal ground and sees a change of pace for the artist. These paintings are fast…they are caught in a moment. The nature of their making demands swiftness of movement and swiftness of thought. It excludes the possibility of slow, steady building but rather only allows for real consideration of the immediate. The essence of the final painting can not be controlled but simply falls into place as a result of carefully choreographed individual moves. Moves that see the laying down of paint with metal spatulas; metal to metal…laying down and removing in quick, successive movements, often only allowing a residual flowing line to remain on the ground that has been scoured and in which has been engraved a geometric armature.
Charles Tyrrell lives and works at the end of the Beara peninsula in Co.Cork, painting in a studio overlooking the Atlantic Ocean. These paintings, while abstract by nature, carry many resonances and it is hard not to feel a connection with the power of nature as experienced in this particular exposed, rocky and rugged landscape.
Image: Charles Tyrrell: A19.14, 2014, oil on aluminium, 50 x40cm
Friday 11 April – Saturday 3 May 2014
16 Kildare Street, Dublin 2
Telephone: +353 1 676 6055
Opening hours / start times:
Monday 10:30 - 17:30
Tuesday 10:30 - 17:30
Wednesday 10:30 - 17:30
Thursday 10:30 - 17:30
Friday 10:30 - 17:30
Saturday 11:00 - 15:00
Admission / price: Free