Charles Tyrrell: LINE
Friday 31 May – Saturday 22 June 2019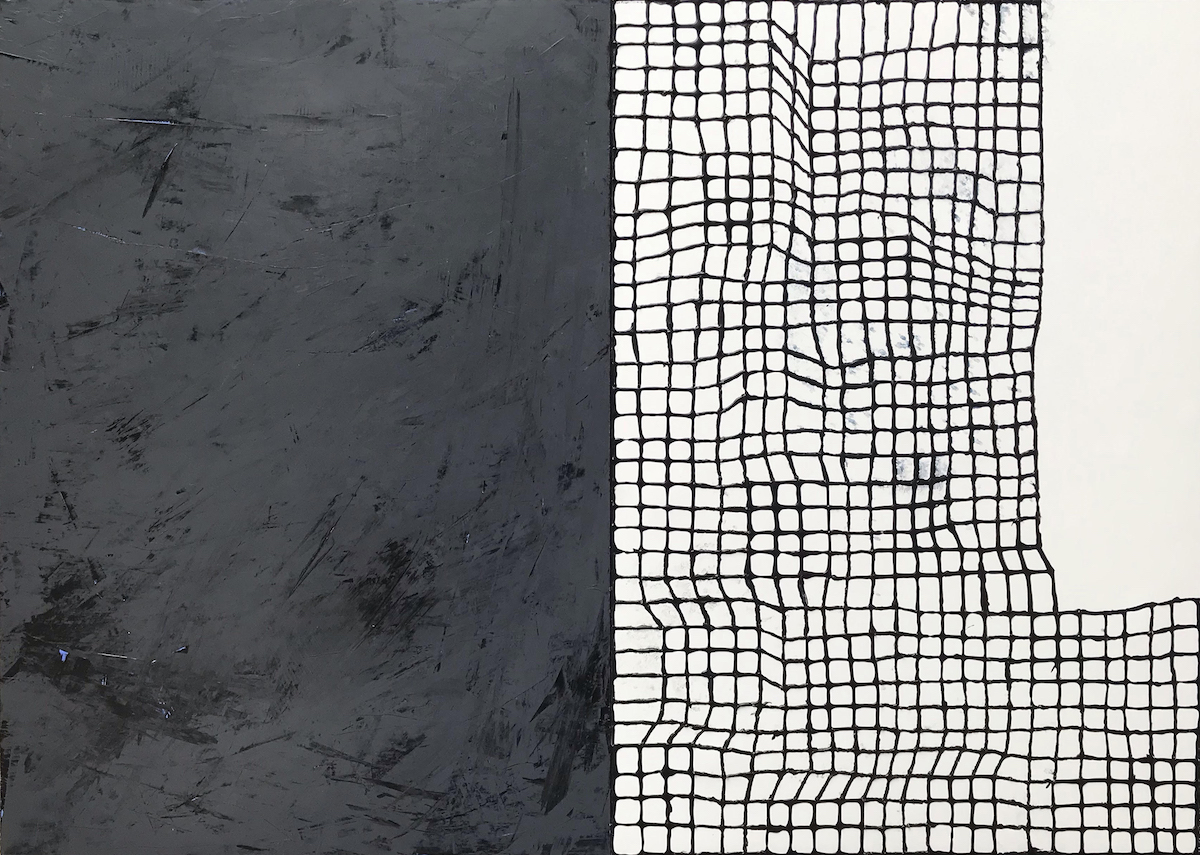 Taylor Galleries is pleased to present LINE, an exhibition of new work by gallery artist Charles Tyrrell.
This body of work was developed over the past year in Charles Tyrrell's West Cork studio, but took shape during the course of two residencies undertaken by the artist: the first a short residency at Cow House Studios in Co. Wexford and subsequently while completing a six-month residency at the RHA, where he re-engaged with working in Dublin thirty five years after moving to Allihies on the Beara peninsula.
The grid has persistently woven its way in some form or other through Tyrrell's work over the years, adopting an underpinning role rather than taking centre stage. However, in this new work it assumes a more prominent position. Having started with Indian ink drawings where an organic approach to building grids was developed, these grids were brought forward and worked further using extruded impasto acrylic line work on Yupo paper mounted on birch plywood panels. Far from mechanical and uniform, the grids have grown from a system whereby random pockets of mini-grids were drawn together, and in doing so had to deal with degrees of distortion as the painting worked towards maintaining the grid's integrity. These distortions have, in places, resulted in dynamic three-dimensional illusions, and the completed grid systems are combined with panels of low textured colour fields to create dynamic interactions.
LINE also includes a selection of older and recent graphic works on paper.
Born in Trim, Co. Meath in 1950, Charles Tyrrell studied at the National College of Art and Design, Dublin, graduating in 1974. Since 1984 he has lived and worked on the Beara Peninsula in West Cork. Always engaged with abstraction, his painting comes from a minimalist starting point and, leaving room for the intuitive, builds towards work that reaches out and resonates. Tyrrell has been represented by Taylor Galleries since 1978. A member of Aosdána, his work has been exhibited extensively in group and solo exhibitions, and it features in private and public collections both in Ireland and abroad.
Image: Charles Tyrrell: Y6.19, 2019, acrylic on Yupo on birch ply, 64 x 90 cm
Friday 31 May – Saturday 22 June 2019
16 Kildare Street, Dublin 2
Telephone: +353 1 676 6055
Opening hours / start times:
Monday 10:30 - 17:30
Tuesday 10:30 - 17:30
Wednesday 10:30 - 17:30
Thursday 10:30 - 17:30
Friday 10:30 - 17:30
Saturday 11:00 - 15:00
Admission / price: Free