Championing Irish Art: The Mary and Alan Hobart Collection
Saturday 8 April – Sunday 23 July 2023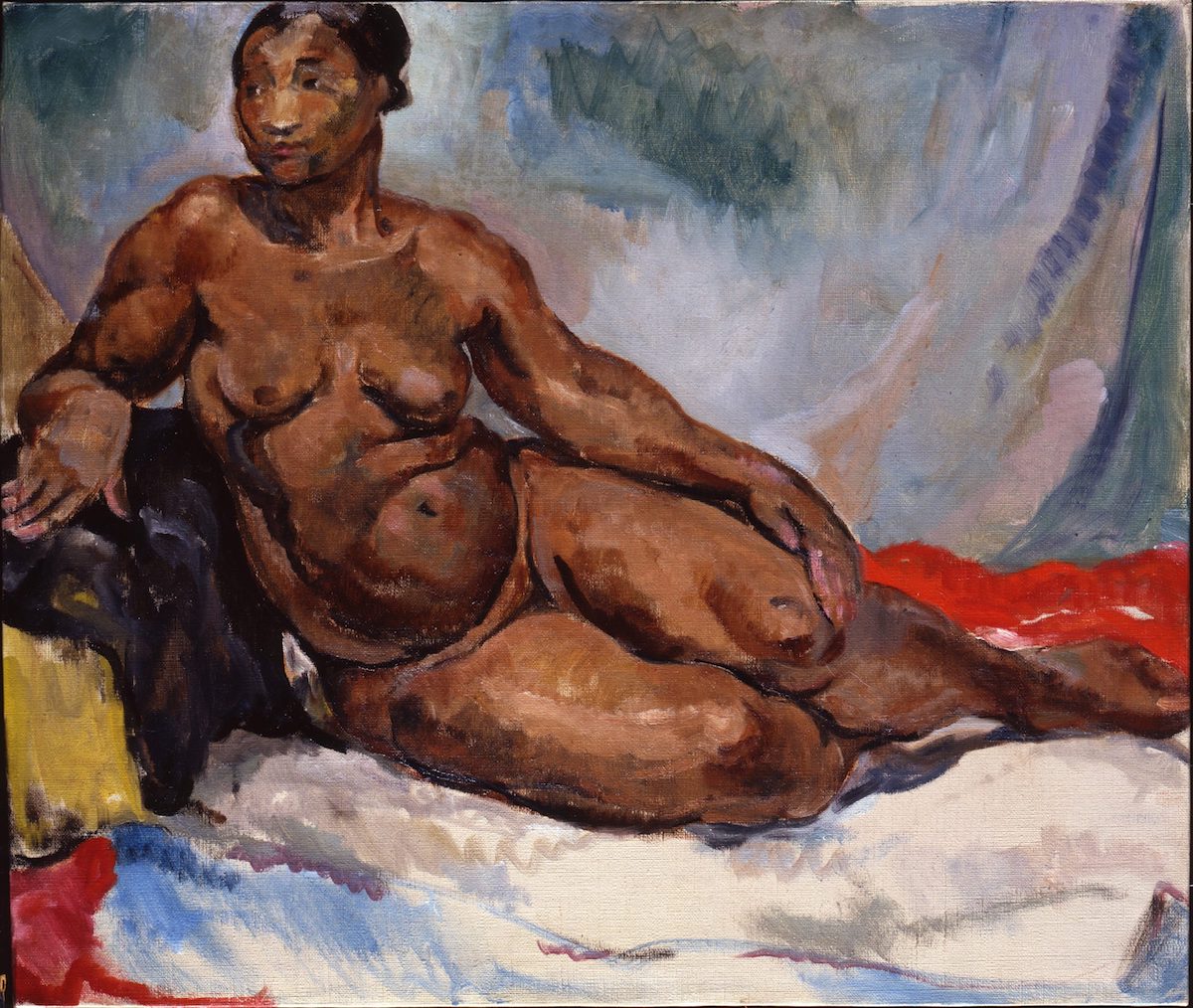 ――― Opening in venue ―――
Championing Irish Art: The Mary and Alan Hobart Collection exhibition begins at the moment of the First World War, with images that record wartime experiences as well as portraits of the 'everyman soldier', alongside moments of rebellion and resistance. It places Irish artists such as Mary Swanzy in dialogue with Jack B. Yeats, considering how their individual and idiosyncratic interpretations of modernism pose productive questions. It moves through the hard-edged abstractions of the 1960s and '70s in the work of Michael Farrell, Cecil King, and Charles Tyrrell; before ending with works made in response to the conflict in Northern Ireland by William Crozier, Rita Duffy, and F.E. McWilliam.
This exhibition is drawn from the personal holdings of the Hobarts and very much reflects their tastes and beliefs. Mary had grown up in one of the border counties and was aware of sectarian tensions from a young age. Similarly, Alan was raised in the shadow of the Second World War. Consequently, both developed strong anti-war positions and the works they personally collected illustrate such political subject matter – a key example being the series of First World War paintings by William Orpen that unflinchingly depict wartime life. The responses to exhibiting Irish art in the 1980s were mixed. It is now difficult to recapture the atmosphere in London in the aftermath of IRA bombings in the UK, and the Maze Hunger Strikes which saw a profoundly anti-Irish sentiment whipped up by the popular press. To promote Irish art at the time was, to say the least, counter-cyclical – as Alan and Mary put it with some understatement 'we met with an element of hostility'.
For almost half a century Mary and Alan Hobart acted as influential taste-formers and deal-makers advising public and private collectors and exhibiting and trading in Irish art. In line with current international interest in the role of the dealers and galleries in how art is created, curated and collected, this exhibition explores the Pyms Gallery's crucial role in the development of an interest in, and market for, Irish art.
The exhibition is curated by Seán Kissane and will be accompanied by a fully illustrated publication with newly commissioned research by William Laffan.
Artists include Jack B. Yeats, William Crozier, Rita Duffy, Micheal Farrell, Grace Henry, Cecil King, John Lavery, FE McWilliam, William Orpen, William Scott, Mary Swanzy, and Charles Tyrrell.
Set up in 1974 by Mary Hobart from County Monaghan and her Devon-born husband, the late Alan Hobart, the Pyms Gallery, from premises in Belgravia and Mayfair in London mounted a series of pioneering exhibitions which championed Irish art in Britain for the first time since Sir Hugh Lane at the very beginning of the twentieth century. Their shows in the 1980s and '90s including 'The Irish Revival', 'Celtic Splendour', 'Irish Renascence' and 'An Ireland…Imagined' in effect made the market for Irish art, especially of the early twentieth century when it was little regarded at home and unknown internationally.  
Against the background of the conflict in Northern Ireland, London in the early 1980s was a hostile environment to fly the flag for Irish culture but the Hobarts succeeded in raising the reputations – and value – of Irish art dramatically. While several of the artists were largely forgotten, others such as William Orpen and John Lavery had been quietly subsumed with the British, Scottish, or even English Schools. Pyms Gallery reclaimed them for Ireland though never minimising complexities of national identity or cultural allegiance. Many of the paintings in these early shows have become famous icons of Irish art, now in public collections, but others were retained by the Hobarts for their own collection, and these are being put on public display in this exhibition for the first time in many years. 
This exhibition focusses mainly on Irish artists who have been presented in solo or group exhibitions at IMMA, including Mary Swanzy, William Crozier, Jack B. Yeats, and Cecil King; all of whom had also been included in early exhibitions at Pyms. In the case of Mary Swanzy, following her death in 1978, the gallery worked with her Estate to inventorize, conserve, and present her unseen works to the public. Pyms produced three solo exhibitions for Swanzy, each accompanied by illustrated catalogues that included significant new research. Many of those paintings have now entered public collections such as that of IMMA. Aside from Swanzy, the Hobarts were pioneers in promoting the work of Irish artists regardless of gender. At a time when male artists dominated the market, they regularly showed the work of Mainie Jellett, Evie Hone, and Grace Henry; as well as contemporary artists like Rita Duffy who had two solo exhibitions at Pyms. Other contemporary artists who they exhibited include Brian Maguire, Jacinta Feeney, Micheal Farrell, and Louis le Brocquy.  
Image: Mary Swanzy, Nude Study Samoa (1924), Oil on canvas, 45.5. x 54.5 cm, Mary and Alan Hobart Collection
Saturday 8 April – Sunday 23 July 2023
Royal Hospital, Kilmainham
Dublin 8
Telephone: +353 1 612 9900
Opening hours / start times:
Tuesday 11:30 - 17:30
Wednesday 11:30 - 17:30
Thursday 11:30 - 17:30
Friday 11:30 - 17:30
Saturday 10:00 - 17:30
Sunday 12:00 - 17:30
Admission / price: Free
Bank Holidays open 12:00 – 17:30.