Celina Muldoon: SIRENS Part III
Thursday 22 August – Saturday 31 August 2019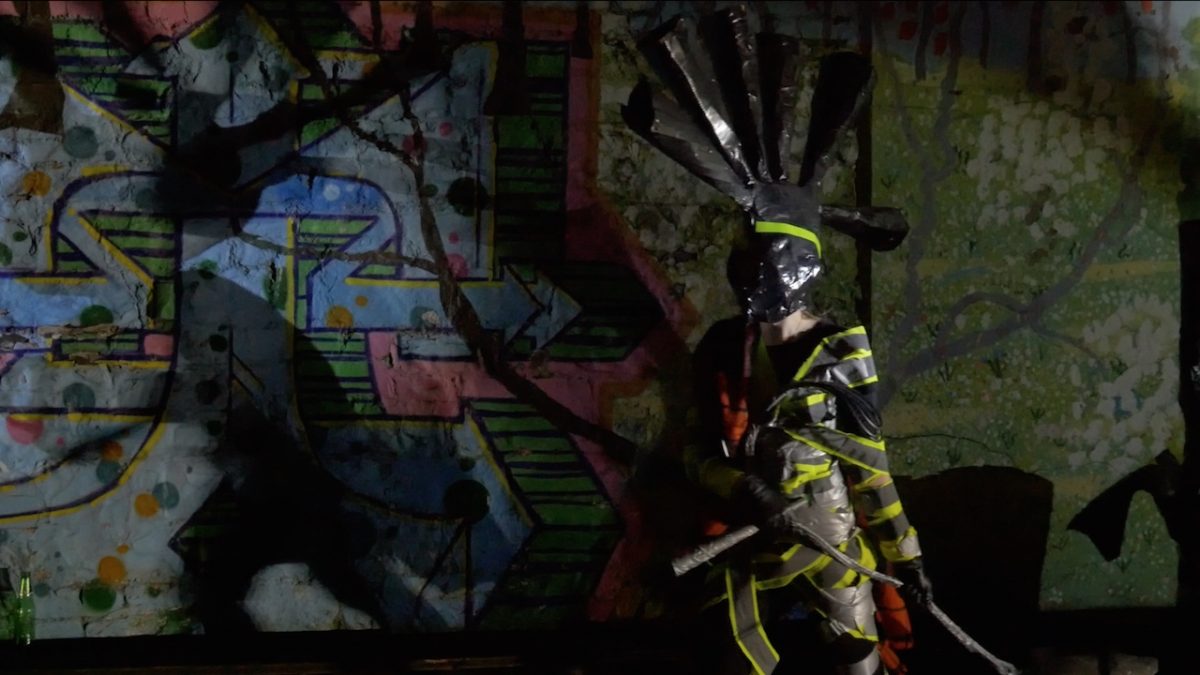 Kevin Kavanagh is proud to present SIRENS Part III, an exhibition and two performances by Celina Muldoon taking place Thursday 22nd and Saturday 31st August at 7pm. Performance duration approx 25 mins. Muldoon will also be in conversation with Sue Rainsford in the gallery at 1pm Saturday 24 August.
LIVE; BALOR; ROCK; TOWER; SOUND; RALLY; FILM; KIDS; EYE,
STREAM; LIFT; CALL; DIFF; SEE; BREAST; PLAY,
POWER; RISE; ACT; DARK; CHAOS!
SIRENS Part III is the third in a series of test events. For 2 weeks in August Kevin Kavanagh Gallery will become a site of call / response; action / reaction.
SIRENS was originally conceived out of a desire to identify mythological races based around her home in Donegal and the isolated community of the North West of Ireland. What transpired was a deep exploration into our ancient cultural heritage and the supernatural sea-faring race called the Fomorians or Fomoire. Her research involved collaboration with young people in Donegal around their ideas of identity, isolation and a sense of place while living within fringe territories. Recurring topics where relationships with space, connections between landscape and escapism and rally culture.
Muldoon collaborated with writer Sue Rainsford to explore language, text and symbolism in ancient folklore and how they might translate in contemporary culture. Working with music producer Keith Mannion they tested experimental sound techniques to create a 'battle cry' or 'Siren Call' for the contemporary world. What evolved became a re-imagining of the power structures within Irish folklore to claim space through live performance, sound and text. SIRENS live installation – performance has been presented as a solo exhibition in Pallas Projects and Studios, as a Live procession from Temple Bar Gallery to The Project Arts Centre as part of LIVE COLLISION festival and will be exhibited as part of RHA FUTURESthis November.
Celina Muldoon (b.1980) is an Artist based in North West Ireland. Graduating with a First Class Honours degree in Fine Art, I.T. Sligo in 2014, with work in their permanent collection. Muldoon completed  an MFA in Sculpture from N.C.A.D. in 2016. Her graduate work 'We are in cahoots…You and I' was selected  for Mobius(Boston) int. performance festival 2017 and Craw festival Berlin 2018. She has exhibited in TBG&S, The Complex, waveparticle and Celine gallery, Glasgow and Project Arts Centre Dublin. Residencies include  MART and the Tyrone  Guthrie Centre. She has been awarded the Next Generation Bursary award, The Artist in the community scheme award and a residency in Cowhouse studios in partnership with The Mothership Project in November 2018 and the prestigious Temple Bar Gallery and Studio Project Studio Award 2019. Current research projects include a collaborative performance and  film culminating in a major exhibition in 2020. The debut of this project took place as part of Periodical Review #8 in PP/S Dublin.
Sue Rainsford is a fiction and arts writer based in Dublin. A graduate of Trinity College, IADTand Bennington College, she is a recipient of the Arts Council Literature Bursary Award, theVAI/DCC Art Writing Award and a MacDowell Colony Fellowship. Her debut novel, Follow Me To Ground, was awarded the Kate O'Brien Award, and is longlisted for the Republic of Consciousness Award. Follow Me To Ground is available from New Island Books, and is forthcoming in the UK with Doubleday as well as in the US with Scribner. Currently, Sue is a visual arts writer in residence at the Roscommon Arts Centre, and with the generous support of the Arts Council she is working on her second novel, Redder Days.
Slow Place Like Home is the music of producer / musician Keith Mannion.
Based in the forests of Donegal, in the North-West of Ireland, he has released a series of EPs and two albums – debut 'Romola' in 2015 and the critically acclaimed sophomore 'When I See You… Ice Cream!', in 2017. He is currently writing new material as 'Slow Place Like Home' and is also a member of the band 'Gaze is Ghost', for which he is currently finishing a new album. His music and videos have featured on TV and Radio both nationally and internationally including MTV and Australian terrestrial T.V. His work has aired on radio stations such as KCRW, WFMU, BBC Radio 1 and BBC 6 music. Mannion has played live shows with Fujiya &Miyagi, Dan Deacon, Squarepusher, Perfume Genius, Day Wave, Ezra Furman, Moodoïd, Prince Rama, Glass Animals,Pantha Du Prince, Gold Panda and Amadou & Miriam. He has collaborated with luminaries such as Fearghal McKee (Whipping Boy) & The Cyclist (Stones Throw Records). He tours with various versions of his live band and will embark on a European tour in late 2019. Mannion is currently signed to Galway's Strange Brew record label.
Thursday 22 August – Saturday 31 August 2019
Chancery Lane
Dublin 8
Telephone: +353 1 475 9514
Opening hours / start times:
Tuesday to Saturday 11am – 5pm
Admission / price: Free