Cecily Brennan: Black Tears
Tuesday 13 April – Saturday 1 May 2010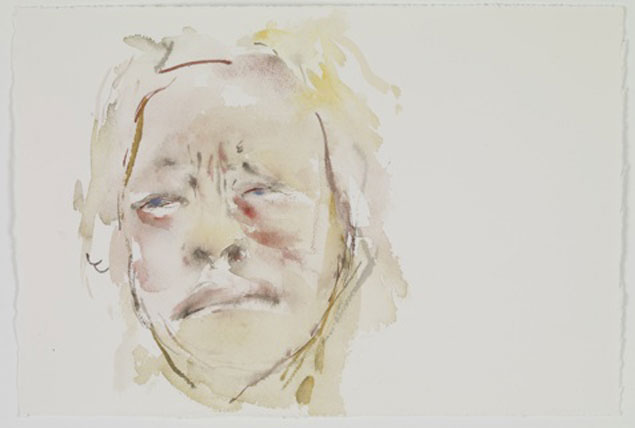 Black Tears, an exhibition of new work by Cecily Brennan, will open at Taylor Galleries on Kildare Street in Dublin 2 on Tuesday 13 April 2010 from 6 to 8pm and will run until 1 May 2010.
The exhibition will include large charcoal drawings on paper (18 foot in length), small watercolours and a video work of the Irish actress Britta Smith as she weeps the black tears of the show's title. The video piece was shot by Seamus Deasy, one of Ireland's best known cinematographers.
Britta Smith died in October 2008.
The exhibition is a continuation of the emotionally intense work that Cecily Brennan has been making for more than a decade. Recent work has included a series of interviews with residents of Ballymun who have survived extreme crisis and tragedy in their own lives. Her video piece Unstrung, in which a woman is repeatedly knocked off her feet by waves of black paint, was recently on show in the exhibition Terror and the Sublime at Crawford Art Gallery in Cork, and Brennan's video work Melancholia, part of the Irish Museum of Modern Art's Collection, was featured in an exhibition of recent acquisitions at IMMA in Dublin 8.
Brennan has exhibited widely and recent shows include LOOP Video Festival, Barcelona; Preview Art Fair, Berlin; Isolated, Golden Thread Gallery, Belfast; and Singing the Real at the National Gallery in Capetown, South Africa. She is now partly resident in Berlin. More of Cecily Brennan's work may be viewed online at www.cecilybrennan.com.
Image: Cecily Brennan
Tuesday 13 April – Saturday 1 May 2010
16 Kildare Street, Dublin 2
Telephone: +353 1 676 6055
Opening hours / start times:
Monday 10:30 - 17:30
Tuesday 10:30 - 17:30
Wednesday 10:30 - 17:30
Thursday 10:30 - 17:30
Friday 10:30 - 17:30
Saturday 11:00 - 15:00
Admission / price: Free