Cecilia Danell: Tactile Terrain
Saturday 12 February – Sunday 3 April 2022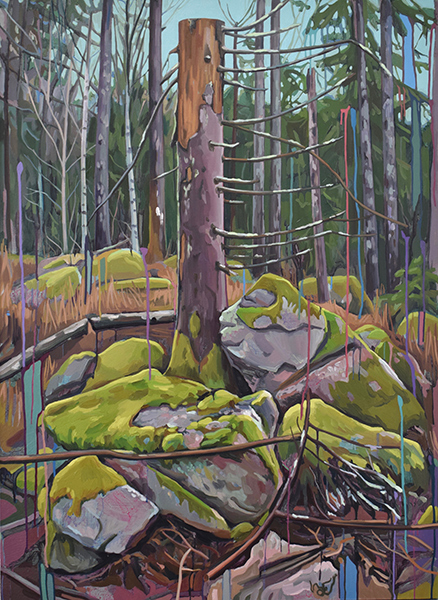 ――― In venue ―――
Luan Gallery is delighted to present three solo exhibitions this Spring showcasing the works of artists; Cecilia Danell, Hilary Kinahan and Rosemary Lantry, whose exhibitions explore themes of landscape and memory.
Cecilia Danell is a Swedish artist based in Galway. Her practice is process based, where accumulated research into landscape and the psychology of place is coupled with a strong interest in materiality and making. Danell returns annually to her family farm in Sweden to walk and gather research material for paintings based around the rich forest landscape. This body of work was made throughout the pandemic and this time of introspection and enforced solitude has resulted in a deep engagement with painting, where the winter landscape further represents that sense of stillness. To counteract the feeling that we couldn't touch anything, Danell made soft, tangible textile objects to accompany her paintings.
An accompanying Artist's Talk, facilitated by the well-respected Arts Curator and Mentor, Eamonn Maxwell will take place at 2pm on Saturday 19 February at Luan Gallery. The talk will also serve as a public introduction to Luan Gallery's new Visual Art Curator, Valeria Ceregini. For those interested in attending, booking in advance via info@luangallery.ie is highly advisable as places will be limited.
Image: Cecilia Danell: New Year's Eve 2021, oil and acrylic on canvas, 130 × 95 cm, 2021
Saturday 12 February – Sunday 3 April 2022
Athlone, Co. Westmeath
Telephone: +353 9064 42154
Opening hours / start times:
Tuesday 11:00 - 17:00
Wednesday 11:00 - 17:00
Thursday 11:00 - 17:00
Friday 11:00 - 17:00
Saturday 11:00 - 17:00
Sunday 12:00 - 17:00
Admission / price: Free