Cecilia Danell: The Last Wilderness
Friday 10 March – Wednesday 19 April 2017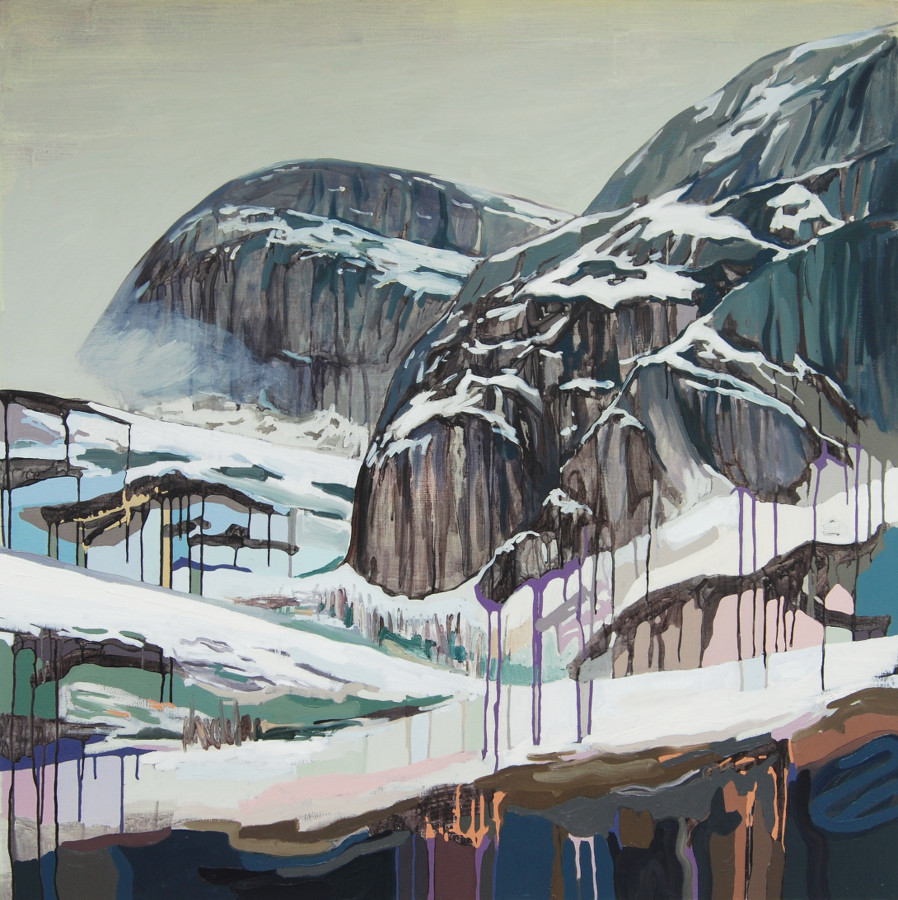 Exhibition opening by Sue Rainsford • Artist Talk: 2pm Saturday 25 March, admission free, no booking required
In a post-nature future the unconscious mind will be the last wilderness.
Cecilia Danell (b.1985) is a Swedish artist based in Galway since 2004. While regarding painting as her main medium, her work is multifaceted and also utilises experimental film, installation and photography. The starting point for this body of work was a residency at the Nordic Artists' Centre Dale, Norway in early 2016 and her proposition: "In a post-nature future, the human mind will be the last wilderness". Influenced by Jungian psychology, existentialism and Utopian/Dystopian science fiction, Danell's work uses landscape as a metaphor for the exploration of the human psyche. By experiencing and documenting the Scandinavian landscape on foot she explores ideas about wilderness and solitude and how the yearning for an authentic life may be no more than a construct.
She has previously used the theatre as metaphor for constructed reality by presenting objects with the surreal quality of being made in the likeness of something, yet falling short of true semblance. Here she has expanded on this further by shooting a film in a Swedish provincial theatre and moving the theatre props out into the landscape. Theatre sets are further referenced in the gallery space through a large-scale forest installation which compliments the film piece. Danell's working method is close to that of a cinematographer, as she documents and selects imagery based on the story she wants to tell – as opposed to documentary objectivity – the resultant paintings being hybrids of photographic semblance and abstraction. Her work touches upon a universal as well as personal condition; of exploring the otherness within oneself as well as the connection between the Self and the surrounding world. The exhibition will coincide with the launch of a publication on Danell's work with a commissioned essay by writer Sue Rainsford. The Last Wilderness is supported by a 2017 Arts Council Project Award.
A graduate of GMIT CCAM, Danell has exhibited solo in the Eight Gallery, Dublin (2014), Talbot Gallery, Dublin (2012) and Wexford Arts Centre (2012) and in two-person exhibitions at TACTIC, Cork (2016), Motala Konsthall, Sweden (2014) and Ballina Arts Centre (2012). Group exhibitions include Veins, Molesworth Gallery, Dublin (2016), The Claremorris Open Prizewinners' Retrospective (2016) selected by Helen O'Donoghue (IMMA), the RHA Annual Exhibition (2015), Tulca Festival of Visual Art (2010, 2012, 2014), and Kaleidoscope: Art from EU Member States, Farmleigh Gallery, Dublin (2013) where she was invited to represent Sweden. Awards include Arts Council Bursary and Project Awards, the Wexford Arts Centre Emerging Artist Award (2011), Bursary- and Tyron Guthrie Residency Awards from Galway City Council and a Nordic Artists' Centre Dale Residency Award funded by the Norwegian Ministry of Culture (2016). Her work is represented in The OPW Collection, the Wexford County Council Art Collection, The Kelly Collection, Rosslare and The Motala Municipal Art Collection, Sweden. 


The Last Wilderness will also tour to The Dock Arts Centre, Carrick on Shannon in 2017.
Friday 10 March – Wednesday 19 April 2017
47 Dominick Street
Galway
Telephone: + 353 91 565 886
Opening hours / start times:
Monday 10:00 - 17:30
Tuesday 10:00 - 17:30
Wednesday 10:00 - 17:30
Thursday 10:00 - 17:30
Friday 10:00 - 17:00
Saturday 10:00 - 14:00
Admission / price: Free