Cecilia Bullo: Bleach Those Tongues: Dystopian Assemblages
Thursday 8 July – Saturday 7 August 2021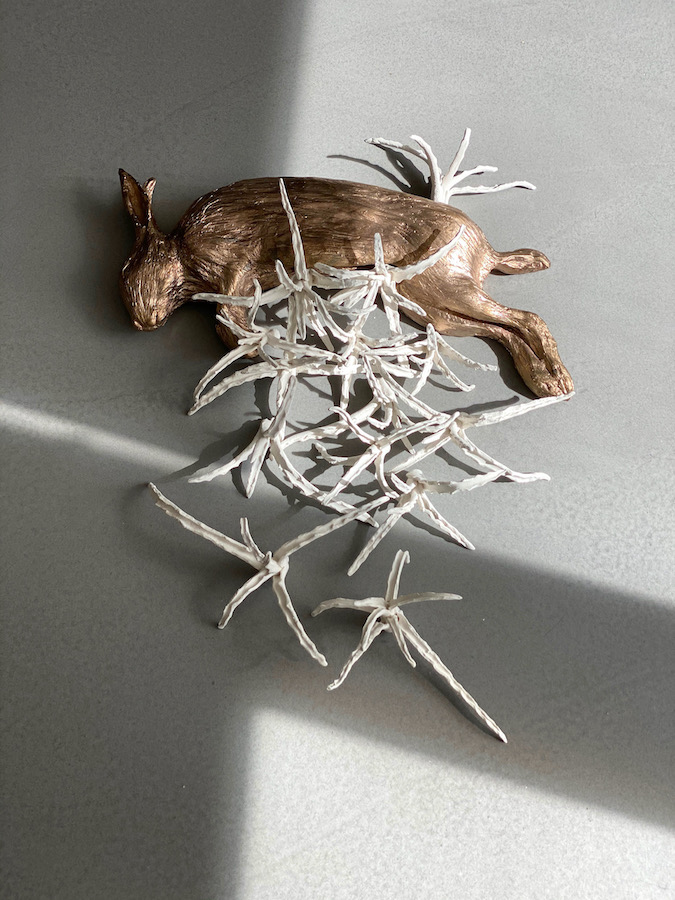 ――― In venue ―――
Gypsum auras surround the cold wild beast, stroking its benign petrified fur
Luscious in that space, a configuration without potions
Dig harder
The germs of hierarchical seed – sprouting through hungry wounded flesh
Be-coming – Intense
On the smooth striated plateau  –  said she 'bleach those tongues'
Bleach Those Tongues: Dystopian Assemblages is a new body of work by Cecilia Bullo based on the philosophical and botanical concepts of the Rhizome. This new work explores her personal displacement, archaeomythology, sacred spaces and urban shamanism. At its core, Bullo's work interrogates healing mechanisms involving rituals and signifiers in the context of social issues, and the cultural challenges faced by displacement and migration – especially of women.
Recent projects include: Biomedia-Illness, Art and Medicine, Museum of Contemporary Art Queretaro, Mexico (2019), The Question of Feeling at Home, PS2, Belfast ( 2019), Ex-Voto the Body + Institution, Galway Arts Centre (2018), Transgender, Gender & Psychoanalysis, Draper Hall / Freud Museum, London (2017).
With thanks to Fire Station Artists' Studios, DCC Arts Office and the Arts Council of Ireland.
Image: Cecilia Bullo: I was once a Liminal Daughter, 2021, bronze, porcelain, Sertraline, Aloe Vera extract, medical shunts, stainless steel
Thursday 8 July – Saturday 7 August 2021
49 Parnell Square West
Dublin 1
Telephone: +353 1 8788242
Opening hours / start times:
10.30 am – 5 pm (Mon – Fri), 10.30 am – 3 pm (Sat)
Admission / price: Free