CAUTION! Fragile
Thursday 8 March 2018 – Sunday 3 February 2019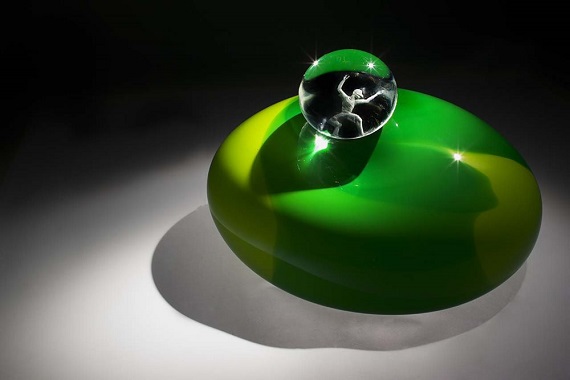 Irish Glass – Tradition in Transition
The closure of the Waterford Crystal factory in 2009 was devastating for the city and a challenge for the continued survival of Irish glass. Hundreds of glassmakers were laid off, heralding the end of an era of large-scale industrial glass making in Ireland.
Determined not to let the closure dictate the fate of Irish glass, artist Róisín de Buitléar approached three former employees, Glass Masters, Fred Curtis, Greg Sullivan and Eamonn Hartley, about collaborating on a project to create a new body of work based on expressions of their own experiences.
CAUTION! Fragile, an exhibition of 54 pieces of blown, cut, and engraved works, is the result of this collaboration. The exhibition comments on the history and social experience of working in the Waterford Crystal factory and living in Ireland.
CAUTION! Fragile not only refers to the delicate nature of glass, but is also an appeal to cherish and respect the long tradition of glass engraving and cutting in Ireland.
Iconic objects from the collection of the National Museum of Ireland as well as the Irish landscape provide the inspiration for a series of pieces that form personal narratives by the three glass masters, working under their own names in their own studios.
Included in the exhibition are a series of glass instruments with which musician Liam Ó Maonlaí has created an Irish incantation — a harmony of voice, object and soul. These recordings of original compositions are grounded in the traditional Irish music and Sean Nós style of singing, an ancient and highly ornamented style with links and similarities to other world music.
Also included are oral history recordings from glass workers, recounting what life was like manufacturing crystal in Waterford and its impact on their personal lives.
A 64-page full-colour catalogue to accompany this exhibition is available to purchase from the Museum gift shop.
Initiated and organised by Róisin de Buitléar • Design by Red White Green(e)
Image: Soft Rain © Philip Lauterbach
Thursday 8 March 2018 – Sunday 3 February 2019
Collins Barracks
Benburb Street, Dublin 7
Telephone: +353 1 6777444
Opening hours / start times:
Monday 13:00 - 17:00
Tuesday 10:00 - 17:00
Wednesday 10:00 - 17:00
Thursday 10:00 - 17:00
Friday 10:00 - 17:00
Saturday 10:00 - 17:00
Sunday 13:00 - 17:00
Admission / price: Free