Cathy Henderson: Shore
Monday 12 March – Saturday 2 June 2012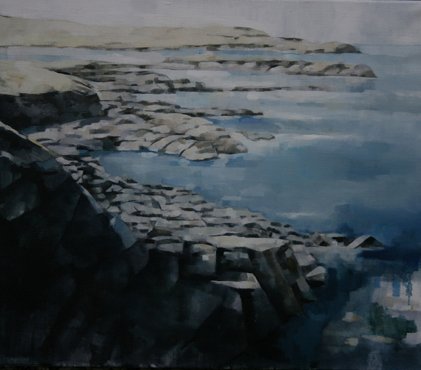 Opening Reception Saturday 10 March at 2pm
Born in London, Cathy Henderson grew up in Northern Ireland before moving to Paris and then to Dublin to study at NCAD from where she graduated with a Masters of Fine Art in 1993. She has since exhibited in the UK, Ireland, France and Canada.
This current body of work was made over the last two or three years all around the Irish coast. "The most dynamic and resilient influence on my landscape work is the place where land meets the sea. My aim with these pictures is to capture the transience of the coastal view, the sense of shifting skies and the constantly fluctuating mood of weather." Cathy Henderson
In addition to her continued fascination with landscape, Cathy also focuses much time on portraiture and figurative work. In 2007 she worked as Artist in Residence in Dublin City Council and in 2009 at St James's Hospital, Dublin. These residencies resulted in two large scale bodies of work which documented cleansing, maintenance and technical support personnel. In 2010 she joined the Blackchurch Print Studio and in the same year she received an Arts Council Artist in the Community award to fund a visual art project with a group of long-term prisoners. She was recently awarded a commission, jointly with Robert Ballagh, to design a commemorative artwork to celebrate the centenary of the 1913 Lockout and the establishment of the ITGWU. Her work is in numerous private and public collections including the Ulster Museum, ESB and Queens University Belfast.
Monday 12 March – Saturday 2 June 2012
The Blanchardstown Centre
Dublin 15
Telephone: +353 1 885 2622
Admission / price: Free