Catch the He(art) – A Travelling Residency
Tuesday 20 May – Saturday 24 May 2014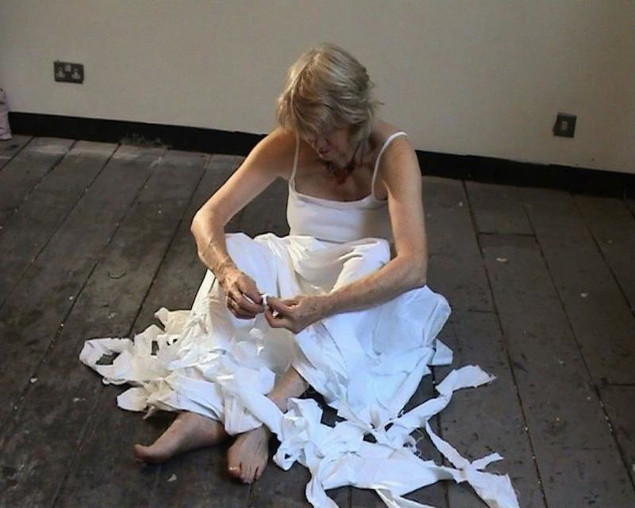 Curated by Michelle Browne • Exhibition of works 20 – 24 May, Seminar Tuesday 20 May, 6pm
Catch the He(art) is a traveling residency that invites four artists, Patricia Hurl, Mary Kelly, James King and Therry Rudin, to come together over the month of May to explore their motivation to continue making work in later life. Catch the He(art) offers this group of artists the time and space to reflect, debate and present on their attitudes to, and ways of, making art in older age. These four artists continue to experiment and challenge their arts practices and this residency will celebrate this continual experimentation and passion in art making. Three seminars will be held during the residency where the artists will publicly share their thoughts on these topics, while presenting their current working practices. At Galway Arts Centre, curator of the Dock Arts Centre, Leitrim, Alice Lyons will chair a discussion with the artists. The Discussion is open to the public and all are welcome.
Born Dublin, Patricia Hurl now lives and works in Co. Offaly and Barcelona. She has exhibited widely and has engaged in art residencies in Ireland, Spain, South Africa, the USA and Iceland. As well as the traditional art forms, she has engaged in Participatory Art and has an ongoing interlinked practice with the artist Therry Rudin, which is Performance/Video/Sound based.
Mary Kelly lives and works in Ireland. She has exhibited extensively nationally and internationally. Recent exhibitions include The Landing, Dusseldorf Photo week-end, Dock Art Fair Leon with Galerie Voss 2013, Father & Child (solo show), Galerie Voss, Düsseldorf '12, Atelier + Kitchen – Laboratories of the Senses, Martha Herford Museum, Herford '12. She is the recipient of many awards including Irish American Arts Award in New York 2006. Her work is installation based using photography, video, sound, sculpture, drawing and painting.
James King has been practicing performance in various forms for thirty-five years and has lectured in Community Drama for thirty of these. During the past ten years he has been expanding his performance art experience; ranging from short, open-mic word-play entertainments to more substantial durational events often incorporating vocal experimentation.
Therry Rudin was born in Switzerland and has lived in Germany, USA, Brazil and in Ireland since 1985. She now lives in Ballybritt, Co Offaly and Barcelona. She has exhibited widely in Ireland, Switzerland, Brazil, USA and Iceland; she works and exhibits regularly in collaboration with the artist Patricia Hurl. We work individually but in tandem, drawing strength from each other and responding to each other's work with immediacy that results in Video/ Performance work.
Alice Lyons is a writer with an interest in bringing poetry to new contexts and media. Her poems have appeared in publications such as Tygodnik Powszcheny (Kraków) and POETRY (Chicago) and as poetry films in cinema and gallery screenings worldwide. She is the recipient of the Patrick Kavanagh Award for Poetry, the Ireland Chair of Poetry Bursary and bursaries in literature and film from An Chomhairle Ealoine/The Arts Council. Her poetry film, The Polish Language, co-directed with Orla Mc Hardy, has screened in competition in over 50 film festivals worldwide and garnered numerous awards including an IFTA nomination for Best Animated Short. She is currently a doctoral candidate at the Seamus Heaney Centre for Poetry at Queen's University in Belfast.
This project is supported by Age & Opportunity as part of Bealtaine 2014 – celebrating creativity as we age.
For more information go to www.bealtaine.com
Image: Patricia Hurl and Therry Rudin: swansong, video still, work in progress
Tuesday 20 May – Saturday 24 May 2014
47 Dominick Street
Galway
Telephone: + 353 91 565 886
Opening hours / start times:
Monday 10:00 - 17:30
Tuesday 10:00 - 17:30
Wednesday 10:00 - 17:30
Thursday 10:00 - 17:30
Friday 10:00 - 17:00
Saturday 10:00 - 14:00
Admission / price: Free