Call for submissions 2014
Deadline Friday 27 June, 3pm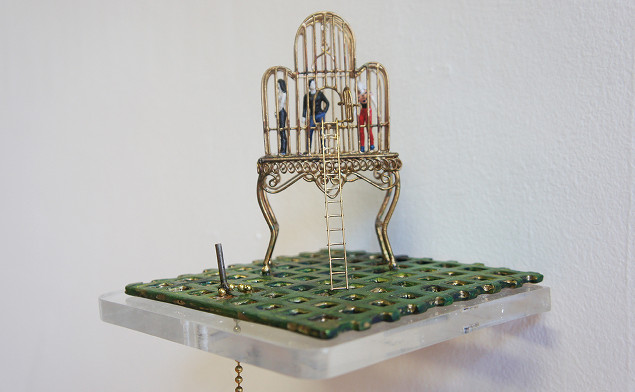 The ADF Gallery is a contemporary space in the centre of Belfast running a year-round programme showcasing new artwork and raising the profile of disabled and deaf artists. The ADF also runs performing arts events and workshops as part of Bounce! Arts Festival.
Disabled/deaf artists, you are invited to submit proposals for solo exhibitions as part of our 2015 programme. We are looking for a wide range of art in contemporary and traditional styles, including themes reflecting disability issues. If you are interested in presenting work in the ADF Gallery, please submit a proposal containing the following:
• Full contact details
• An outline (250 words max) telling us what you would like to show and talking about the motivations behind making the work.
• Up to 10 samples of work, in print or digital format.
• An outline of any technical requirements, such as black-out or audio visual gear.
• Artist's biography / history of exhibitions.
Send proposals by email to leo@adf.ie (include jpgs and/or links to personal websites). Or send by post (give disks and photos). Do not submit original artwork. Ensure that your samples of work are clearly labelled with your name and a number and link this to a numbered list giving your name and details – title, medium, size.
We are also open to proposals for other types of event but this can take longer to arrange, for example if we need to do additional fundraising. To make a proposal, please follow the list above as much as is relevant. For workshops please outline your experience, tell us you would want to do and give references. For performances, give a DVD or You Tube link to a performance and/or a script.
Please submit all information by Friday 27 June at 3pm. Send toleo@adf.ie or by post marked for the attention of Leo Devlin, Gallery Officer at the address below. For further information contact Leo on 028 9023 9450. It's not possible for us to accept every proposal that is made but we do try to give feedback.
ADF Gallery, Ground Floor
Cathedral Quarter Workspaces
109-113 Royal Avenue
Belfast BT1 1FF
028 9023 9450
Image: Kathlyn O'Brien
Deadline Friday 27 June, 3pm
Arts & Disability Forum Gallery
109-113 Royal Avenue
Belfast
Admission / price: Free