Bridget O'Gorman: Telling the Bees
Saturday 29 August – Saturday 3 October 2015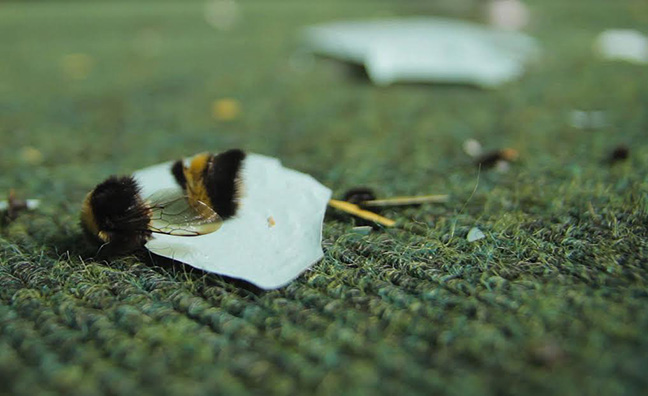 'They said that if you didn't tell the bees of a wedding, a birth or a death…they would take offence and leave…'
Telling the Bees by Bridget O'Gorman is a body of new work that is a meditation upon alternative forms of remembrance. The exhibition runs until October 3rd. The August 28th opening also coincides with the Galway launch of Brigid's Ale, a limited edition honey based ale crafted by Kildare sisters Susan and Judith Boyle.
Telling the Bees features sculptural work and a new video by the artist, whose current research into animism, or the belief that a non human entity contains a memory, could be what art writer Harry Garuba describes as the 'spectral other that simultaneously constitutes and haunts the modern'. This form of animism – the outdated practice of telling the bees – references a culture and belief system that connects us with our past – yet has also been classified as uncivilized within what Garuba calls a 'colonial, modernist order of knowledge'. It could also be said that this form of knowledge was considered uncivilized by the Catholic Church in Ireland. Highlighting language or the reciting of words as a means of keeping something alive, the exhibition culminates in a new video depicting the interior walls of a recently vacated Irish military barracks, situated in an area whose name place may be translated literally as 'honey meadow'. The enduring symbolism of the bee and the mysticism that traditionally surrounds it, its relationship to precarity and societal order, references a potential for the demise and inevitable evolution of things.
Built in 1805, the materiality and decaying boundaries of this military barracks – once a representation of colonial occupation – are revealed in the video. The visuals are accompanied by a voiceover whose narrative is formed from appropriated fragments from Irish folklore and 19th Century British post-apocalyptic fiction. The narrative aims to evoke a collection of speculative and unsubstantiated histories situated in this colonial structure.
Alongside this video, a series of fabricated clay and glass objects contaminate the Galway Arts Centre. Exploiting the plastic memory of materials, these forms are mid-stretch: presented in flux to embody movement, the passing of time or memory traceable in the inanimate.  Petrified secretions, spillages, warped objects that imitate, visibly peel away from, crawl and cling to structures – form a collection of primitive, uncanny, nonsensical and transgressive relics of remembrance.
Those mutated forms are accompanied by swathes of silk imprinted with enlarged images of dripping liquid, draped over collapsed brass structures.  These seemingly fallen proclamations speak of a sense of ruin, the fluid – an image of honey spilling – is testament to a moment and substance which cannot be retrieved now – represented through the image of a material which is known for its' preservative qualities.
Bridget O'Gorman (b. 1981, Co. Tipperary, Ireland) graduated with a BA in Fine Art Painting from the Crawford College of Art (IRL) in 2003.  In 2008 she completed an MFA between the Department of Applied Art and The School of Sculpture at Edinburgh College of Art in Scotland.
Recent selected group exhibitions include If I Show You the Roses Rubicon Projects, Dublin IE 2015, From a Studio Exchange at Acme Project Space, London UK 2015, Wade In at Eastern Edge Gallery CA & Lewis Glucksman Gallery IE 2014. Solo exhibitions include We Are Suddenly Somewhere Else at the Butler Gallery IE 2013, Material Culture at the Wexford Arts Centre IE 2012 and RE/SET at VISUAL Centre for Contemporary Art IE 2011.
She is the recipient of various awards including an Arts Council Visual Arts Bursary Award 2014/15, Golden Fleece Commendation 2015, Fire Station Digital Media Award 2012, the Future Makers Travel & Training Award 2011 and the Wexford Emerging Visual Artist Award 2010.  In 2014 she completed a residency with Acme Studios London.  She is currently living and working at Fire Station Artists' Studios, Dublin where she is developing upcoming projects with Workhouse Union (Callan, Co. Kilkenny) and The Lab Gallery Dublin.
Saturday 29 August – Saturday 3 October 2015
47 Dominick Street
Galway
Telephone: + 353 91 565 886
Opening hours / start times:
Monday 10:00 - 17:30
Tuesday 10:00 - 17:30
Wednesday 10:00 - 17:30
Thursday 10:00 - 17:30
Friday 10:00 - 17:00
Saturday 10:00 - 14:00
Admission / price: Free