Bridget O'Gorman: Calling 059…
Friday 10 June – Sunday 21 August 2011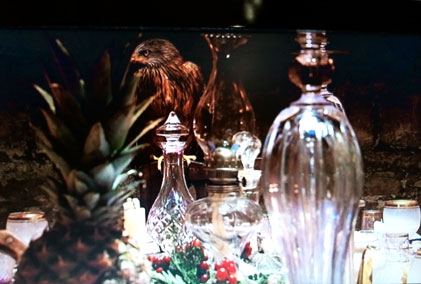 Bridget O'Gorman was selected from an open call to artists working within the 059 area, and has been awarded a solo show in VISUAL's Lobby Gallery. O' Gorman presents an intimate micro museum of objects, delicately dealing with human natures capacity to continuously reinvent itself. Her work involves the considered placement of invented or found object, image and sound in the creation of fictive narratives or environments. Tensions between historicity, superstition and belief are explored, raising questions about dependency and about the construction of fiction as a human requirement.
Calling 059… was part of Éigse Carlow Arts Festival 2011 and continues to August 21st at VISUAL.
Image: Bridget O'Gorman: Human/Nature (Grace), Video Still, 2011
Friday 10 June – Sunday 21 August 2011
Old Dublin Road, Carlow
Telephone: +353 59 917 2400
Opening hours / start times:
Tuesday 11.00 - 17:30
Wednesday 11.00 - 17:30
Thursday 11.00 - 17:30
Friday 11.00 - 17:30
Saturday 11.00 - 17:30
Sunday 14:00 - 17:00
Admission / price: Free
Remember to pay for the parking! Box office open, as well as times given, on day of theatre events from 6.30pm to show start.