Brian O'Doherty: Reading Time
Saturday 11 March – Saturday 17 June 2023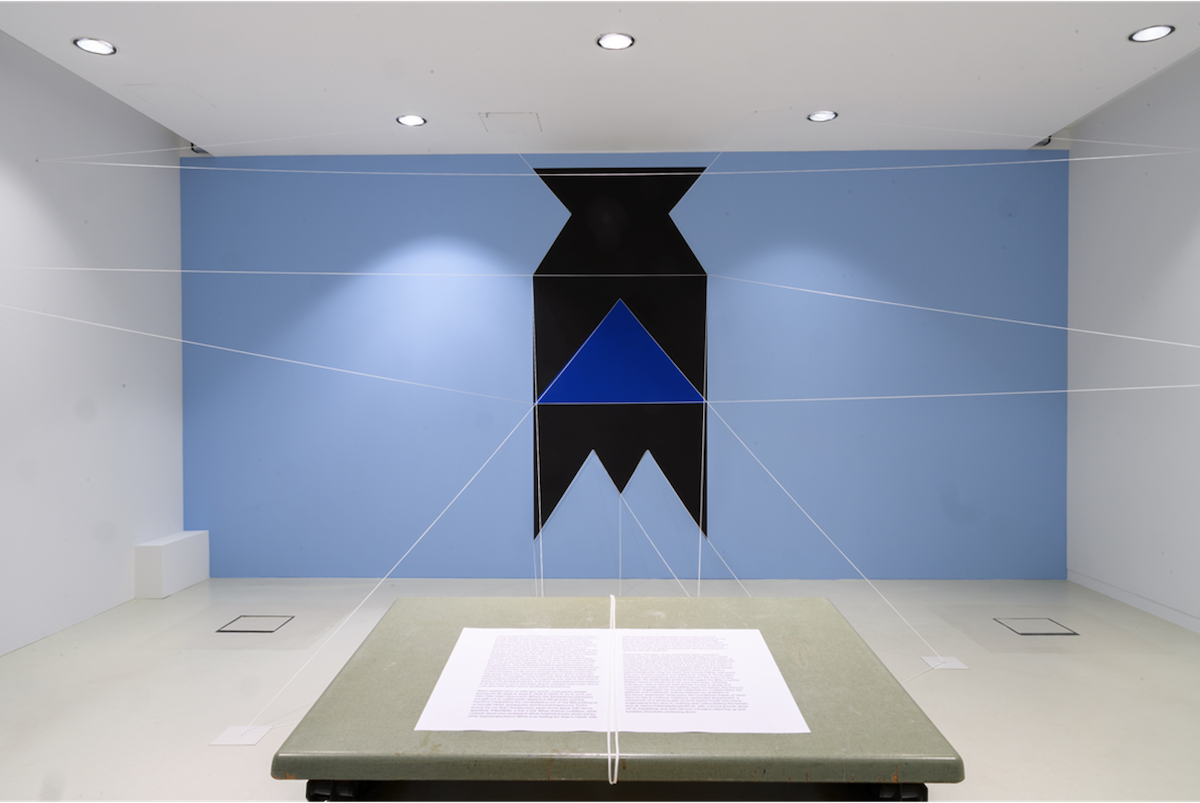 Brian O'Doherty's exhibition Reading Time features works layered in time and space, and concern the building that SIRIUS occupies, Irish history, and literature as a medium that unfolds durationally. They are mostly borrowed from Irish museums and private collections, and include pieces from the holdings of O'Doherty's close collaborators and a study for One, Here, Now, the mural that he made at SIRIUS in 1996, now accessioned into the SIRIUS Collection. This exhibition is the first presentation of O'Doherty's production since his passing on 7 November 2022, and reiterates his key themes: language, identity, perception, and ideology.
This exhibition is curated by Christa-Maria Lerm Hayes, the 2023 SIRIUS Scholar in Residence, and produced by SIRIUS.
Brian O'Doherty was born in Ireland in 1928. He studied medicine, and then emigrated to the United States in 1957, where he embarked on an art-related career. In the 1960s he became influential in the New York art scene in multiple functions. Between 1972 and 2008 he worked under the moniker Patrick Ireland, which he adopted in allusion to, and protest against, the ongoing partition of Ireland.
Like many other Irish emigrants, O'Doherty departed Ireland from Cobh in County Cork, where SIRIUS is located. The building SIRIUS occupies was likely one of the last he saw. This is the former headquarters of the Royal Cork Yacht Club, designed and built in the 1850s by and for the Anglo-Irish. For O'Doherty, questions of identity became urgent after he arrived in New York, now that he was exiled, and this building arguably symbolised Ireland's social divides for most of his life.
Doherty's recent death makes the existence of a permanent set of colorful paintings at SIRIUS all the more poignant. He completed his floor-to-ceiling piece in 1996, following a residency. The mural is part of a bygone era, yet prioritizes the present: One, Here, Now is its title, and it references Ogham, an ancient alphabet once popular in Ireland that O'Doherty used across his oeuvre. Conceivably, through this work, O'Doherty reclaimed Ireland from its contested status as an "internal colony" of Britain, and reconciled his feelings toward his own story of displacement.
O'Doherty's links to Ireland extend through the layers of SIRIUS, to the water and the sky beyond, and along and across the time he lived. In "reading" his works, this exhibition proposes an engagement with a vital relationship that he establishes with each and every one of us, here and now.
Image: Patrick Ireland (aka Brian O'Doherty), HCE Redux, 2004 (remade 2019). Installation view, Van Abbemuseum, Eindhoven, 2019-20. Photograph: Van Abbemuseum
Saturday 11 March – Saturday 17 June 2023
The Old Yacht Club
Cobh, Co. Cork
Telephone: +353 21 481 3790
Opening hours / start times:
Wednesday – Saturday, 12:00 – 17:00
Admission / price: Free