Brian Eno: 77 Million Paintings
Friday 18 January – Sunday 24 February 2019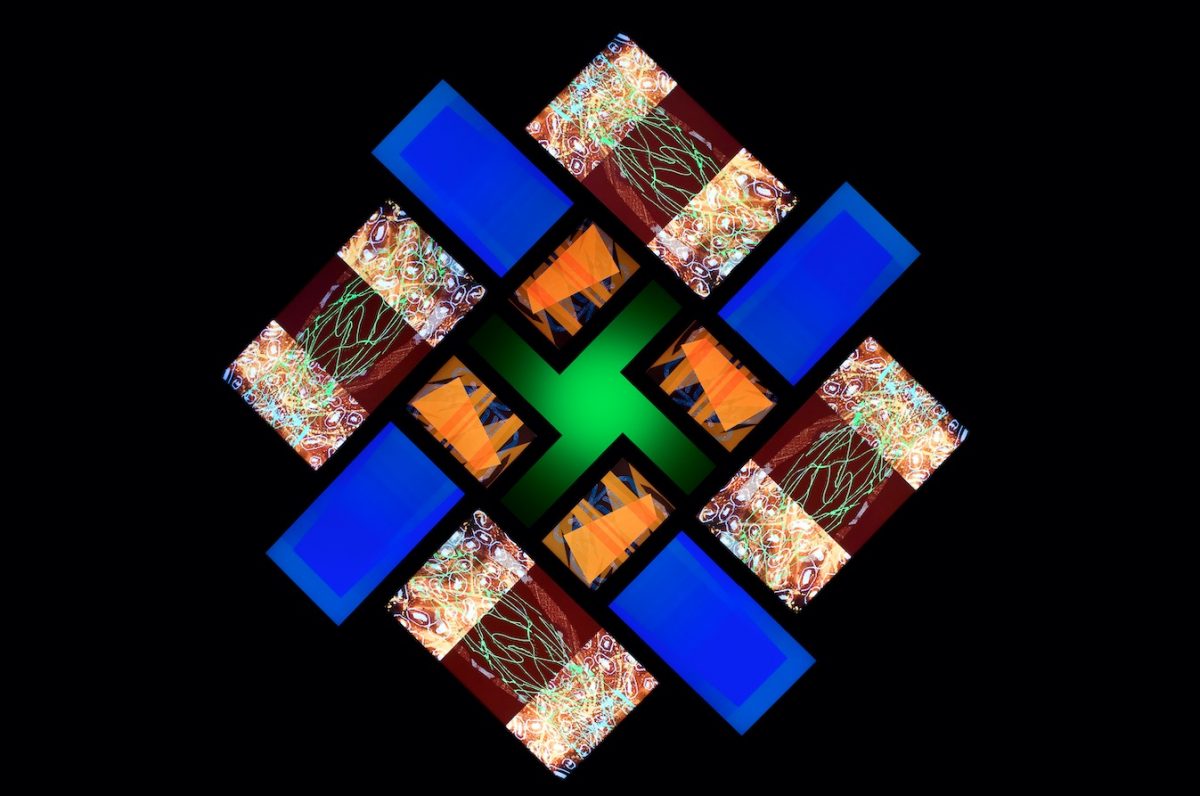 Conceived by Eno as 'visual music', 77 Million Paintings, a constantly evolving sound and image-scape born from his continuous exploration into light as an artist's medium and the aesthetic possibilities of generative software, will be installed at the RHA Gallery, January 2019. This ever-changing, large-scale music and light installation evolves slowly around the audience, who can relate to it as a conventional painting while aware that the same combination of images will never be seen again.
77 Million Paintings is an example of what Brian Eno calls 'generative art': "One of the things which strongly draws me to generative art is the idea that the thing is so big, in that there are so many variations, that not even the artist can see all the possibilities.
Since my first experiments with light and sound in the late 1960's, I've never ceased to be fascinated by the amazingly intricate, complex and unpredictable results produced by simple deterministic systems. Out of simplicity, complexity arises. That is for me the most incredible idea of evolution theory and of cybernetics. John Cage once said: "The function of art is to imitate nature in her manner of operation" and that has been an objective for me throughout my working life."
Musician, producer, visual artist, thinker and activist Brian Eno first came to international prominence in the early '70s as a founding member of Roxy Music, immediately followed by a series of critically praised and influential solo albums. His visionary production includes albums with Talking Heads, Devo, Laurie Anderson, U2 and Coldplay, whilst his long list of collaborations includes recordings with David Bowie, John Cale, David Byrne, Grace Jones, James Blake and many others.
Equally notable and arguably even more prolific are his visual experiments with light and video. These are the fertile ground from which so much of his other work has grown. They cover an even longer span of time than his recordings and have in recent decades paralleled his musical output. These highly-acclaimed works have been exhibited all over the globe – from the Venice Biennale and the Marble Palace in St. Petersburg to Beijing's Ritan Park and the sails of the Sydney Opera House.
Public Event
2 February, 1.30 – 4.30pm: Adult Workshop with Artist, Barry Cullen, Make your own light and sound device in response to Brian Eno, 77 Million Paintings
Artist Bio
Brian Peter George Eno, born 1948, is an English musician, record producer and visual artist. He is best known for his pioneering work in ambient music and contributions to rock, pop, electronic and generative music. A self-described "non-musician", Eno has helped introduce a variety of conceptual approaches and recording techniques to contemporary music, advocating a methodology of "theory over practice, serendipity over forethought, and texture over craft" according to AllMusic. He has been described as one of popular music's most influential and
innovative figures.
Born in Suffolk, Eno studied painting and experimental music at the art school at Ipswich Civic College in the mid 1960s and then at Winchester School of Art. He joined glam rock group Roxy Music as synthesiser player in 1971. After recording two albums with Roxy Music, he departed in 1973 to record a number of solo albums, coining the term "ambient music" to describe his work on releases such as Another Green World, 1975, Discreet Music, 1975, and Music for Airports, 1978. He also collaborated with artists such as Robert Fripp, Cluster, Harold Budd, David Bowie on his Berlin Trilogy, and David Byrne, and produced albums by artists including John Cale, Jon Hassell, Laraaji,Talking Heads and Devo, and the no wave compilation No New York, 1978.
Dating back to his time as a student, Eno has worked in various media including sound installations and his mid-70s co-development of Oblique Strategies, a deck of cards featuring cryptic aphorisms intended to spur creative thinking. An advocate of a range of humanitarian causes, Eno writes on a variety of subjects and is a founder member of the Long Now Foundation.
Image: Brian Eno, 77 Million Paintings, Image courtesy of the artist and Lumen London
Friday 18 January – Sunday 24 February 2019
15 Ely Place, Dublin 2
Telephone: +353 1 661 2558
Opening hours / start times:
Monday 11:00 - 17:00
Tuesday 11:00 - 17:00
Wednesday 11:00 - 19:00
Thursday 11:00 - 19:00
Friday 11:00 - 19:00
Saturday 11:00 - 19:00
Sunday 14:00 - 17:00
Admission / price: Free