Brian Bourke: Model Aeroplanes over Belmont
Friday 1 March – Saturday 23 March 2013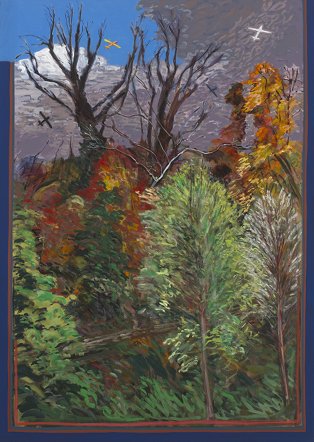 Opening Reception Thursday 28 February, 6 – 8 pm
Taylor Galleries is delighted to present Model Aeroplanes over Belmont, an exhibition of new work by Galway-based artist Brian Bourke that will be opened by Sandy Lloyd of Belmont Mill Artists' Studios, Co. Offaly at a private view from 6 to 8pm on Thursday 28 February 2013.
Model Aeroplanes over Belmont continues until 23 March 2013 and is Bourke's 14th solo exhibition with the gallery, which celebrates its 35th anniversary in 2013.
The exhibition features a series of large-scale paintings as well as smaller mixed media works on paper. The new body of work from which the exhibition takes its name was inspired by time spent in Belmont, the small village in Co. Offaly that is home to the 18th century Belmont Water Mill. Under the ownership of the Perry family the mill produced flour, pinhead oatmeal and porridge oats for almost 130 years. In 1997 Tom Dolan and Sandy Lloyd bought the mill complex and they have subsequently transformed the mill house and adjoining stable bock into residential artists' studios and a family home.
While visiting the mill Brian Bourke's attention was drawn to the small planes being flown over the surrounding landscape by the local model aeroplane club and these miniature flying machines feature prominently in recent works on canvas and paper which are shown for the first time here alongside more familiar subjects – the artist's garden at Ower, trees observed throughout the changing seasons and portraits of friends.
Brian Bourke was born in Dublin in 1936 and studied at the National College of Art and Design, Dublin and St. Martin's School of Art, London. From early landscapes and life-size nude self-portraits his work has evolved to encompass various series that explore both his interest in observational work rooted in the places and things he encounters in his day-to-day life and fictional narrative. He has represented Ireland at several international exhibitions, received numerous awards and his work is included in public and private collections both in Ireland and abroad. He is an elected a member of Aosdána and an Honorary member of the Royal Hibernian Academy.
Friday 1 March – Saturday 23 March 2013
16 Kildare Street, Dublin 2
Telephone: +353 1 676 6055
Opening hours / start times:
Monday 10:30 - 17:30
Tuesday 10:30 - 17:30
Wednesday 10:30 - 17:30
Thursday 10:30 - 17:30
Friday 10:30 - 17:30
Saturday 11:00 - 15:00
Admission / price: Free